This device will come handy for those who want to run multiple monitors on their laptops or desktop PCs, without the need to buy a video card with at least two monitor outputs.
The USB display adapter supports up to 6 additional displays simultaneously and up to 2048×1152 resolution, allowing you to expand your desktop space connecting monitors, projectors or HDTVs and far easier multi-tasking. It is PC and Mac compatible and come with retractable USB cable, DVI to VGA adapter,  and Multi-View II Carry bag for easy transportation.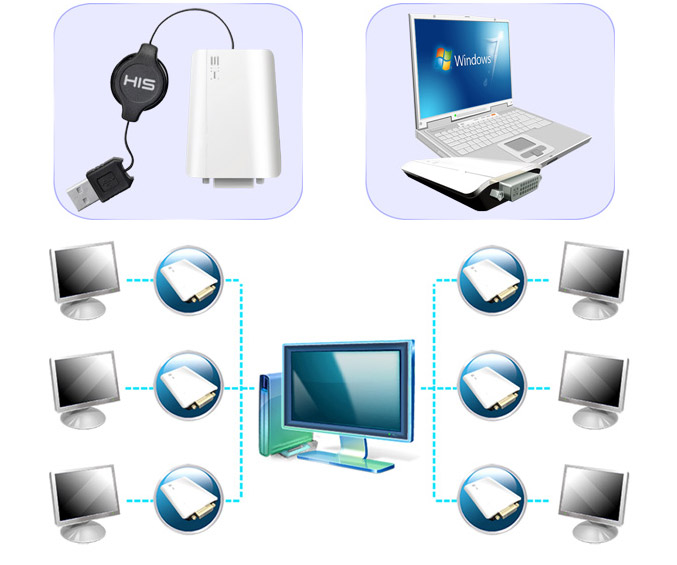 Product Features
USB 2.0 Hi-Speed compliant input
Dual DisplayLink DL2+ Decompression Engines
High definition resolution up to 2048×1152 including Full HD (1080p)
High performance (DDR) memory interface
Comprehensive operating system support including full support for Windows Vista (including Aero 3D) and Windows7
Windows driver Auto-Install via SPI flash interface
Support for standard and widescreen aspect ratio displays
32-bit True Color depth for high quality graphics
Integrated DVI (TMDS) and analog (VGA) DAC
Support for direct LCD panel connections via LVDS
Video output via DisplayPort and HMDI supported via external chips (12/24-bit RGB-TTL)
Ultra low power consumption compatible with USB bus-powered designs
Automatic display detection using VESA compliant protocols
Support for a wide range of static, interactive, and video content
Fast and simple installation using Microsoft WHQL signed drivers
Configuration flexibility allowing extend and clone desktop display. Configurations are remembered with the unique benefit that when unplugging the device, all applications are brought back to the computer's main display, to enhance mobility.
Fully software upgradable allowing performance and feature enhancements over the life of the product
Optional Auto-Update to provide users with the latest software enhancements
The HIS Multi-View II USB Display Adapter will cost you around $65.