Following their SSD success, Silicon Power announces the release of portable hard disk drives to further boost their already potent product lineup. Though SSDs seem destined to replace HDDs in the future, current SSD pricing makes them slightly out of reach when compared with traditional hard drives. Thus, Silicon Power releases their first traditional HDD in the form of the USB interface Armor A10.

As traditional HDDs are made up of delicate moving parts and are prone to damage from accidental shock and vibration. Considering this, Silicon Power's Armor A10 is built specifically to withstand shock and vibration. Tested in compliance with stringent US military MIL-STD-810F (transit drop test), tests include (1) free fall drop directly onto concrete or hard surfaces; (2) specific height free fall test (122cm); (3) product's 8 corners, 12 sides and 6 surfaces all must pass free fall tests. Silicon Power's Armor A10 has passed all the tests mentioned above and offers users a greater peace of mind when it comes to data security.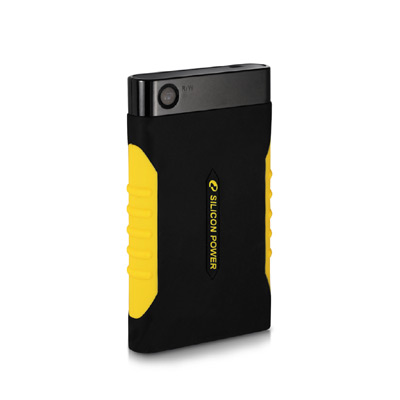 In addition to its shock and vibration proof characteristics, Armor A10's external casing is covered in shock absorbent silica gel to increase friction, prevent falling from slippery surfaces. Two sides have saw wave shape grips for users to better hold the drive.
Armor A10 is compatible with USB 2.0 specifications with a maximum transfer rate rated at 480Mb per second and is backwards compatible with USB 1.1. Practicality wise, there is a one-touch backup button, LED status light indicating power / transfer statuses, password security from preloaded software and a 60-day Norton Antivirus trial software. Silicon Power's Armor A10 is designed to prevent data and the drive itself from damage, offering users the complete protection!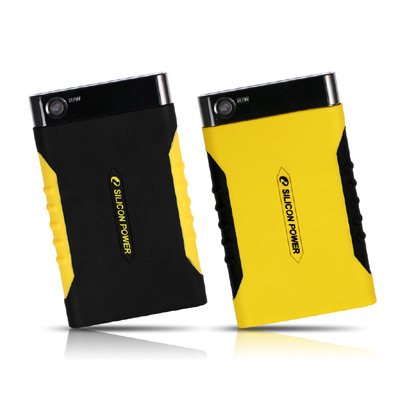 Available in two tones, mixtures of yellow and black, Silicon Power's Armor A10 is suited for students (bright yellow with black trim) and professionals (elegant black with yellow trim) alike.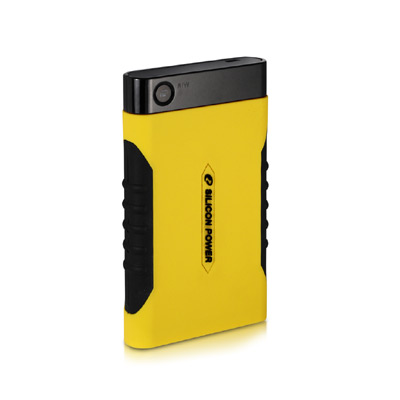 Feature
Install easily and easily to plug and play
High capacity with high transferring rate, 480Mbit/ sec
To protect against data loss or damage from accidental slips or falls, the A10 meets the U.S. military drop-test standards MIL-STD-810F (transit drop test) with advanced two-stage anti-shock technology. Users can use and carry it very safely
LED indicates power on and data access
One touch quick backup button
Additional pack:USB2.0 Flash drive includes OTB (Backup& Security application), and Norton Anti Virus (trial version)

Specification
Dimensions:136.0 x 82.5 x 19.8mm
Standard Compliance:USB 2.0 / 1.1
Data Transfer Rates:Max. 480 Mbps (USB 2.0 Mode)
Max. 12 Mbps (USB 1.1 Mode)
Connector Type:USB Series A
Supported Operating Systems:Windows Vista, Win XP, Windows 2000, Mac OS 9.0.4 or later