Extech MC108 – mini digital microscope

Extech rolls out a  digital mini microscope – MC108 designed especially for laboratories. The portable device features  7x-27x optical zoom and 4x digital.
It is packed with a 1.8-inch LCD, a 300,000 pixel CMOS sensor and has 2MB integrated memory, in which you can save up to 60 images with resolution 320×240 pixels. MC108 has also three white LEDs with adjustable brightness for object illumination and offers five image effect modes, including the Dual Window View that simultaneously displays the magnified image next to the original image.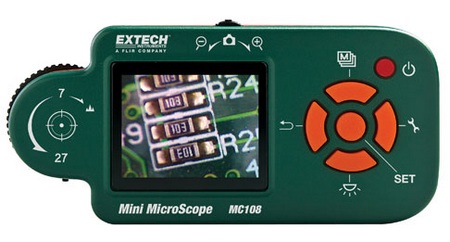 The price for mini microscope is $299.99