Kingston Digital, Inc., the Flash memory affiliate of Kingston Technology Company, Inc., the independent world leader in memory products, today announced the release of the SSDNow V Series 40GB Boot Drive, the latest addition to its V (Value) family of solid-state drives (SSD). The Kingston® SSDNow V Series 40GB Boot Drive is one of the best and most cost-effective ways to accelerate any desktop's boot, shutdown and application load times. It is available for as low as $84.99 after rebates (U.S. only) at e-tailer Newegg.com at launch.
"The SSDNow V Series 40GB Boot Drive offers instant performance enhancement coupled with reliability and lower power consumption at a fraction of the cost of a new system," said Ariel Perez, SSD business manager, Kingston. "The 40GB Boot Drive is the latest offering in our V Series SSD line. It provides a low-cost upgrade solution that complements the installed hard-disk drive to extend the life cycle of existing desktop computers and workstations in homes and offices."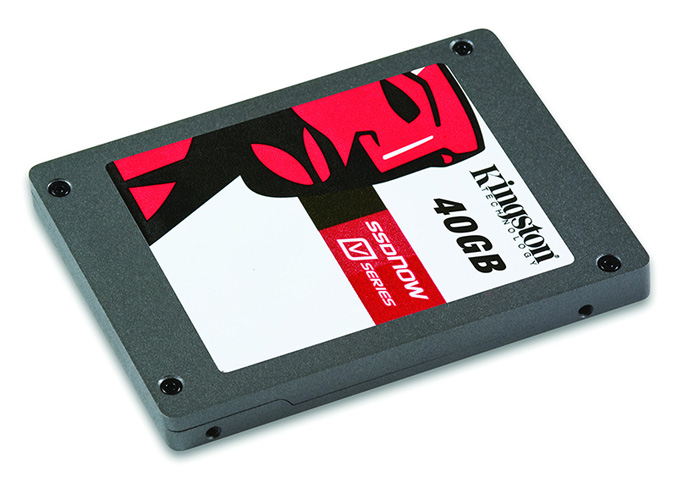 Using the industry-standard PCMark® Vantage Advanced HDD Suite, the 40GB Boot Drive received a score of 13,883, whereas a 7200RPM hard-disk drive attained a score of 3,708**. PCMark Vantage Advanced HDD Suite runs a series of tests such as Windows Vista® startup, importing photos, adding music to Windows Media Center and application loading. The score is an indicator of how many bytes were moved per second.
Kingston's SSDNow V Series 40GB Boot Drive is designed for novice SSD users looking to increase their current desktop performance. As part of Kingston's goal to provide an easy upgrade path for first-time SSD users as well as do-it-yourself system builders, the drive is also available with a bundle that includes cloning software, 2.5″ to 3.5″ brackets and SATA data and power cable extenders. The SSDNow V Series 40GB Boot Drive is designed for a desktop system to be used in conjunction with an existing hard-disk drive (HDD). A PC operating system and key applications reside on the SSD while all data such as documents, music, files and photos remain on the HDD.
The Kingston SSDNow V Series 40GB Boot Drive has an MSRP of $115.00 (U.S.) and will begin shipping on November 9, 2009. It is backed by a three-year warranty, 24/7 tech support and legendary Kingston reliability. For more information visit www.kingston.com.
Kingston SSDNow 40GB Boot Drive Features and Specifications:
Sequential Speed***: up to 170MB/sec. read 40MB/sec. write
Performance: enhances productivity; makes users more efficient
Innovative: 2.5″ form factor; uses NAND Flash memory components
Silent: runs silent and cool with no moving parts
Reliable: less likely to fail than a standard hard drive
Shock Resistant: no moving parts; handles rougher conditions than a hard drive
Supports S.M.A.R.T.: Self-Monitoring, Analysis and Reporting Technology
Guaranteed: three-year Kingston warranty, 24/7 tech support
Capacity¹: 40GB
Storage temperatures: -40° C to 85° C
Operating temperatures: 0° C to 70° C
Vibration operating: 2.17G (7-800Hz)
Vibration non-operating: 20G (20-2000Hz)
Power specs: Active: 0.15W (TYP); Sleep: 0.06W
Life expectancy: 1 million hours MTBF
Source: Kingston