Kingston Technology Company, Inc., the independent world leader in memory products, announced today it is shipping a bundle kit with the popular SSDNow M Series 80GB and 160GB solid-state drives. The SSDNow M Series are the Intel® X-25M SATA SSDs. The bundle combines the solid-state drives (SSD) with the software tools necessary to clone the contents of one's hard-disk drive to the SSD, as well as installation hardware.
"This all-in-one kit is the perfect solution for enterprise companies, corporate end users and consumers to incorporate SSD technology into existing systems," said Ariel Perez, SSD business manager, Kingston®. "The Kingston SSDNow M Series Bundle makes moving the operating system, applications and all other data from a hard-disk drive to a solid-state drive quick and easy whether for a notebook, desktop or workstation."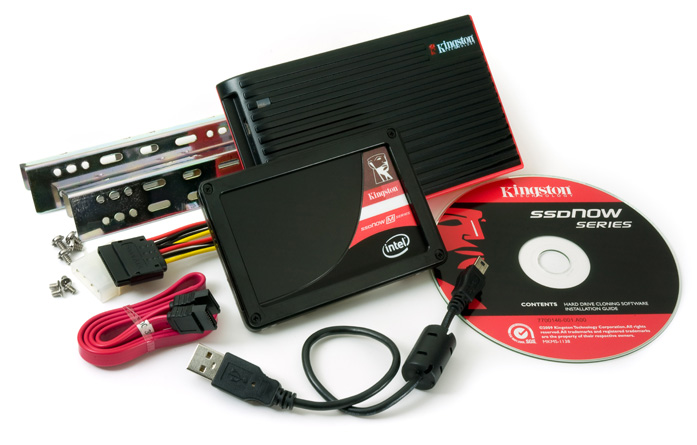 The bundle kit includes:
* SSDNow M Series 80GB or 160GB (Intel® X-25M SATA SSDs)
* Acronis® True Image hard drive cloning software and CD installation guide
* USB 2.5″ enclosure with accompanying USB cable (for notebook PCs)
* 2.5″ to 3.5″ drive bay mounting brackets and screws (for desktop PCs)
* SATA data and power cable extenders (for desktop PCs)
The bundle is backed by a three-year warranty, 24/7 tech support and legendary Kingston reliability. For more information visit www.kingston.com.
Kingston SSDNow M Series Features and Specifications:
Fast: 250MB/sec. read, 70MB/sec. write
Durable: no moving mechanical parts, enabling the SSD to handle rougher conditions
Guaranteed: backed by a three-year Kingston warranty, 24/7 tech support
Form factor: 2.5″
Interface: SATA 1.5Gb/sec. and 3.0Gb/sec.
Capacity*: 80GB, 160GB
Storage temperatures: -55° C to 95° C
Operating temperatures: 0° C to 70° C
Dimensions: 69.85mm x 100mm x 9.5mm
Weight: 86 grams (+/- 2 grams)
Vibration operating: 2.17 G (7–800Hz)
Vibration non-operating: 3.13 G (10–500Hz)
Power specs**: Active: 0.15 W TYP; Sleep 0.06 W TYP
Life expectancy: 1.2 million hours mean time before failure
Operating shock: 1,000 G/0.5 msec operating and non-operating
Kingston SSDNow M Series Solid-State Drives

Part Number

Capacity and Features

MSRP (U.S. only).

SNM125-S2B/80GB

80GB 2.5″ SATA SSD w/Bundle

$ 427.50

SNM125-S2B/160GB

160GB 2.5″ SATA SSD w/Bundle

$ 843.00

SNM125-S2/80GB 80GB

2.5″ SATA SSD (stand-alone drive)

$ 417.50

SNM125-S2/160GB

160GB 2.5″ SATA SSD (stand-alone drive)

$ 833.00

Source: Kingston