MSI, in the spirit of quickly creating and releasing new innovations, has incorporated the Winki online environment – just announced at CeBIT 2009 – as a key feature in its new AM3 790FX and 790GX mainboards. Transforming the mainboard into a tool anyone can use, MSI's independently developed Winki online environment is perfect for a fast online nettop or netbook.
Winki is MSI's unique online environment An extraordinary combination of technology and research, Winki users can navigate the BIOS settings to instantly go online after turning on their PC, with absolutely no need to wait for an OS to start up. Winki includes four major Internet services: Web page browsing, online chat/instant messaging, online phone calls (VoIP), and fast photo viewing.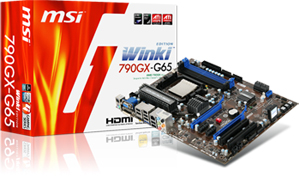 APS + Winki, the most energy conserving, Internet-connected mainboard
MSI's mainboards, since being first introduced on the company's P45 line, have included the independently developed APS (Active Phase Switching) technology that automatically adjusts the amount of power being supplied to key components. This technology not only monitors the CPU to make power adjustments, but refers a whole range of PC components, including the memory and north bridge. In two years of integrating APS technology in its mainboards, MSI has been named best in class for performance and power saving by the worldwide PC benchmarking site, Tom's Hardware Guide, for both its X58 and P45 series mainboards.
APS has another key feature: it is a zero software, zero setting, 100% hardware controlled technology. Since it does not have to rely on the Windows OS, the 790FX and 790GX mainboards can use APS power saving functionality while running the Winki online environment. Users can enjoy both Winki convenience and save power at the same time!
Totally safe online experience
Winki's web browsing function is safe and fully compatible with other websites. It can open SSL certificates for secure online transfers and supports JAVA-Script and Web 2.0 so the user's online experience is exactly what they are used to. No matter if it's streaming music over the web, checking e-mail, or editing a file online, the user will not be hampered in any way because he/she is using Winki. For making the most of cloud computing, Winki's web browser let's you get started right away.
The most comprehensive online chat service
Winki's integrated IM/online chat function includes MSN Messenger, Yahoo Messenger, ICQ, QQ, Google Talk and SIP…, all-together fifteen of the most common protocols. Additionally, Winki's environment can support different accounts at the same time to make the PC a total information center right at start up.
Free online phone calls; instantly connected
Winki's environment also builds Skype service into its architecture, to provide fast VoIP access as soon as one turns on the PC.
Easy photo browsing
Winki's photo browser lets the user instantly access any pictures on their IDE/SATA hard drives and USB devices. It also allows the user to manage all photo files and displays common formats such as JPG, JPEG, PNG, and BMP.
Source: MSI