Since the release of the Eclipse mainboards which won wide acclamation from gamers everywhere, World renowned mainboard and graphics card producer, MSI International, has now launched the new X58 Pro-E to satisfy the top-category of gamers and overclockers.
Not just applying the same DrMOS and APS power supply designs, and creating a beautiful balance between power saving and performance, the X58 Pro-E also equips a set of unique designs like Split Thermal system and True Blu-ray audio which will create a new highlight in price-performance.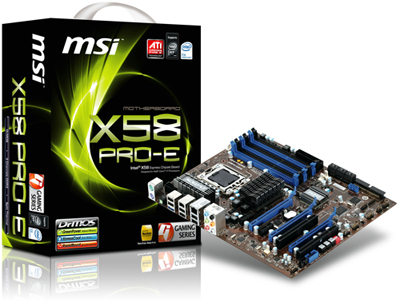 DrMOS+APS advance power technologies
MSI X58 Pro-E is using the Gen.2 DrMOS and APS power supply designs, keeping high performance and power savings in a beautiful balance. These technologies will provide excellent energy-saving capability and offers high-computing performance.
Split Thermal System
MSI X58 Pro-E provides the all new Split Thermal system which is combined with great outlook and performance. Compared with old Split Thermal system, the new design is using metal screws instead of push-pins which will improve heat dissipation.
MSI's Exclusive Easy OC technology- Easy OC Switch
Additionally, X58Pro-E is comprises MSI's Exclusive technology–Easy OC Switch. This is the most quick and easy solution to adjust the CPU frequency and clock speeds. By breaking various overclocking levels into sections, the switch allows the user to shift to different levels of performance without opening the BIOS.
3-way Graphics Technology
X58 Pro-E can supply dual full-bandwidth x16 connections and one more x16 PCI Express slot that brings the maximum bandwidth premium systems for 3-way graphics.
Your BIOS backup solution – M-Flash Technology
X58 Pro-E integrated M-Flash technology allows all the BIOS information to be stored on a USB drive. In case of an inoperable start, this USB will reset all the BIOS information and brings it to the original state providing you a convenient and safe repair.
True Blu-ray Audio Technology
In order to satisfy the demand of Blu-ray HD movie, MSI X58 Pro-E is using the ALC889 audio chip, which does not only support 7.1 audio channels, but also True Blu-ray Audio decoding. With the 7.1 audio channels and the outstanding audio technology, you can enjoy true Blu-ray level audio entertainment, which has clear, distinct high sounds, and a pounding bass of low sounds.
Source: MSI