Swim with Waterproof Bluetooth headset

You never separate with your lovely smartphone, you can't separate with your favorite song  "singing in the rain", but what about when you go swimming? Ok, here is a solution for you.
The Waterproof Bluetooh headset or Wavetooth from Brando, which is claimed to be the first IPX8-certified waterproof Bluetooth headset, so now you can take it under the shower. You must only place your iPhone or Smartphone in the included waterproof bag case, which can hold cellphone with approximate maximum size: 70 (W) x 120 (H) x 15 (D)mm, then connect the waterproof earphone and then listen to music in a bath or by the poolside.The headset feature "Noise Rebound" technology for clear conversation, it powered by a 360mAh Li-polymer battery, which sustain up to 13 hours talk and music time.  For the price of $57.00 you will get a waterproof bag case, waterproof earphone, stereo earphone for music, neck wire and  USB Cable.
Features :
IPx8 Certified to waterproof (3-metre/24-hours)
"Noise Rebound" technology makes clear talk
Touch Functionality through case surface
13 hours extra long talk and music time
Easy to detach and rotatble clip
Light reflective
Battery – 360mAh Li-polymer
A2DP / AVRCP / HF
Standy by 240-hours
Version 2.1 + EDR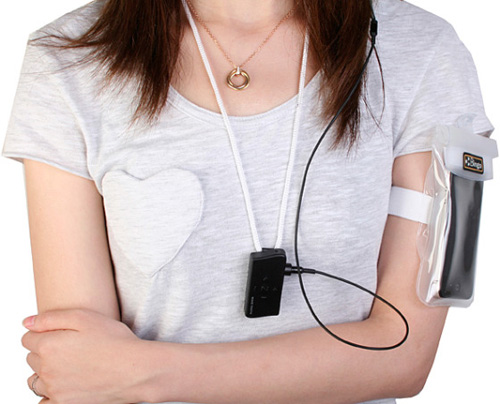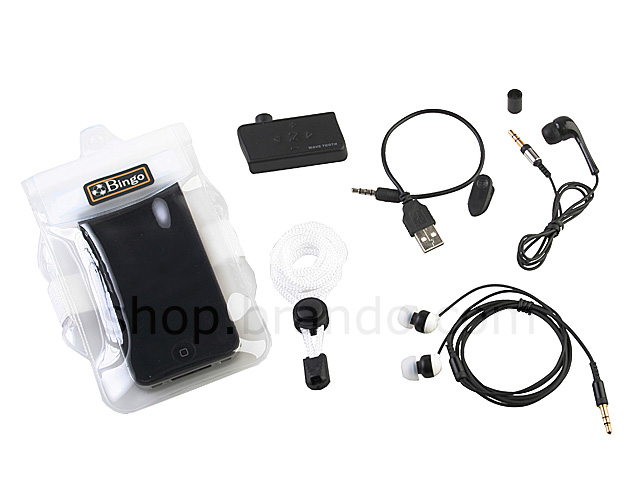 Sourc: Brando