Intel Corporation introduced 17 enterprise-class processors today, led by the Intel® Xeon® processor 5500 series. They are Intel's most revolutionary server processors since addressing the market with the Intel Pentium® Pro processor almost 15 years ago.
The new enterprise-class chips can automatically adjust to specified energy usage levels, and speed data center transactions and customer database queries. They also will play a key role in scientific discoveries by researchers who use supercomputers as their foundation for research, all whilst delivering great energy efficiency for reduced electricity costs.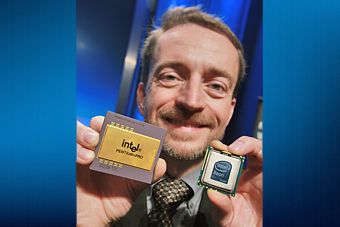 The Intel Xeon processor 5500 series, previously codenamed "Nehalem-EP," offers several breakthrough technologies that radically improve system speed and versatility. Technologies such as Intel® Turbo Boost Technology, Intel Hyper-Threading Technology, integrated power gates, and Next-Generation Intel Virtualization Technology (VT) improved through extended page tables, allow the system to adapt to a broad range of workloads.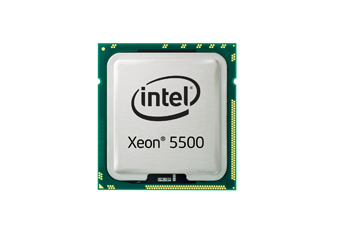 "The Intel Xeon processor 5500 series is the foundation for the next decade of innovation," said Patrick Gelsinger, senior vice president and general manager of Intel's Digital Enterprise Group. "These chips showcase groundbreaking advances in performance, virtualization and workload management, which will create opportunities to solve the world's most complex challenges and push the limits of science and technology."
Fifteen Billion Connected Devices
As use of the Internet expands toward Intel's vision of 15 billion connected devices, the Intel Xeon processor 5500 series will also power an upcoming transformation for the Internet's infrastructure. The high-tech industry has rallied around a goal to run applications from optimized processors and computing hardware that are available on-demand and scalable to the masses. Often called cloud computing, this vision could flourish helped by the adaptability, capability and intelligence of the Intel Xeon processor 5500 series.
Greatest Intel Xeon Performance Leap in History1
With over 30 new world records2 the Intel Xeon processor 5500 series establishes new standards for two-socket performance while delivering gains of more than double the previous- generation Intel Xeon processor 5400 series.
Fujitsu's PRIMERGY* server platforms set records for SPECint*_rate_base2006 and SPECfp*_rate_base2006 with scores of 240 and 194, respectively. The HP ProLiant DL370 G6 server, on the TPC*-C benchmark, shattered the previous record with a score of 631,766 tpmC using the Oracle 11g database. Using the SAP*-SD benchmark, the IBM System x* 3650 M2 server set a record with a score of 5100 SD users. Cisco delivered an outstanding result on SPEComp*Mbase2001, a high performance computing benchmark which helps evaluate performance of OpenMP applications, that was 154 percent better than previous generation 5400 series. On the SPECpower*_ssj2008 benchmark, which measures energy-efficient performance of servers, a Xeon 5500 series-based Verari Systems VB1305 server platform smashed the previous world record with a score of 1943 ssj_ops/watt. Using the VMmark* benchmark, which measures virtualization performance, several Xeon 5500 series-based platforms shattered the previous record by as much as 150 percent versus the previous-generation Intel Xeon processor 5400 series, including a Dell* PowerEdge R710 platform score of 23.55@16 tiles.
Dynamic Leaps in Intelligence
Whether businesses are running high-capacity transactions or simulations, or researchers are striving to discover new energy resources or distant galaxies, computers based on the adaptable Intel Xeon processor 5500 series will play a big impact. Equipped with triple the memory bandwidth of previous server processors, Intel Xeon processor 5500 series-based platforms effortlessly manage a variety of workloads and conditions. A new feature, Intel Turbo Boost Technology, increases system performance based on the user's workload and environment, dynamically boosting the clock speed of one or more of the individual processing cores.
The Intel Xeon processor 5500 series also offers automated energy efficiency enhancements, providing users with greater control of their energy expenditures. This includes a processor idle power level of only 10 watts, enabling a 50 percent reduction3 in system idle power compared to the previous generation. New integrated power gates, based on Intel's unique high-k metal gate technology, allow idle cores to power down independently.
The Intel Xeon processor 5500 series also takes intelligent power to a new level with up to 15 automated operating states. These create significant improvements in chip power management by adjusting system power consumption based on real-time throughput and without sacrificing performance.
These and other more intelligent capabilities of the processors also maximize total cost of ownership for users interested in a smooth transition to the Intel Xeon processor 5500 series from their current systems. In this time of economic challenges, customers can replace older Intel Xeon servers with the Intel Xeon processor 5500 series and receive an estimated payback in as little as 8 months.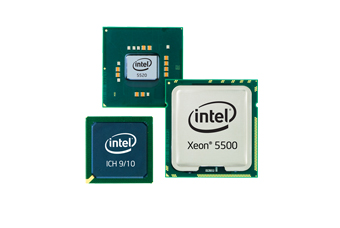 New Embedded Processors Unveiled
The L5518 and L5508 are versions of Intel Xeon processors that were tailored specifically for communications market segments. These processors include options ideal for applications in thermally constrained environments, such as blades and appliances for communication infrastructure, security, storage, medical applications, carrier-grade rackmount servers, router modules and even submarine technology. The L5518 offers 2.13 GHz and a power level of 60 watts. The L5508 offers 2.00 GHz and a power level of 38 watts. New communications and embedded processors feature 7-year extended lifecycle support; these new chips will enable the technology of the future, such as WiMAX, video-on-demand and holographic communications.
New Component Products
Intel is also announcing new server boards that offer a higher degree of integrated components. In addition, the company is announcing the Intel 82599 10 Gigabit Ethernet Controller, featuring advanced virtualization technology and unified networking support, which greatly improves network I/O performance in virtualized datacenters. It is optimized to support the increased bandwidth provided by platforms based on the Intel® Xeon® processor 5500 series, which provides more than 250 percent the I/O throughput of previous-generation servers to best meet the needs of the most demanding virtualization applications.
Also available today is the Intel Data Center Manager software development kit that enables management console vendors to extend platform power control and set rack and datacenter level power policies dynamically, responding to changing server workloads to ensure that racks do not exceed those power levels.
For server applications, processor frequencies peak at 2.93 GHz with DDR3 memory speeds up to 1333 MHz and power levels of from 60 to 95 watts. Under certain conditions, Intel Turbo Boost Technology can provide operating frequencies up to 3.33 GHz, depending on the processor and system configuration. Workstation frequencies go up to 3.20 GHz with power levels of 130 watts, and up to 3.46GHz using Intel Turbo Boost Technology depending on the workload and environment. Each processor contains up to 8MB of level 3 cache.
Starting today, more than 230 unique systems based on the Intel Xeon processor 5500 series are expected to be announced by more than 70 system manufacturers around the world – including a new Intel customer, Cisco, along with Dell, Fujitsu, HP, IBM, Sun Microsystems and others.
Many software vendors are also supporting Intel Xeon processor 5500 series-based platforms, including Citrix, IBM, Microsoft, Novell, Oracle, Red Hat, SAP AG, Sun Microsystems and VMware. To learn more about how Intel and major software vendors deliver outstanding platforms, please visit www.intel.com/business/software/testimonials/xeon5500.htm.
The Intel Xeon processor 5500 series ranges in price from $188 to $1,600 in quantities of 1,000. The single-socket Intel Xeon processor 3500 series ranges from $284 to $999 in quantities of 1,000. The L5518 and L5508 embedded processors for communications market segments are priced at $530 and $423, respectively, in quantities of 1,000. For more details on the Intel Xeon processor 5500 series, visit www.intel.com/xeon. For more details on world records and other claims, visit www.intel.com/performance/server/xeon/summary.htm.
Source: Intel