ASUS, creator of the netbook and leader in netbook innovation, has introduced two new Eee PC™ Seashell models that are as abundant in battery life as they are in beauty.
Boasting unparalleled battery lives of 11* and 10.5* hours respectively, the Eee PC™ 1101HA and Eee PC™ 1005HA enable users to learn, work and play all day. Inspired by one of nature's most beautiful designs—the seashell—and equipped with the best of today's innovations, these sleek, lightweight and hardy netbooks offer large, crisp screens, excellent connectivity on-the-go, and large storage capacities. The Eee PC™ 1101HA and Eee PC™ 1005HA sport 11.6″ and 10.1″ LED-backlit screens respectively.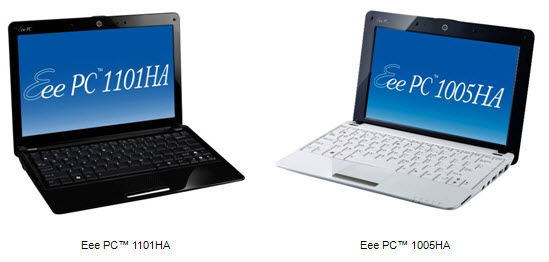 All-Day Computing
The 1101HA and 1005HA are the most energy-efficient Eee PC™ netbooks yet, thanks to the ASUS-engineered Super Hybrid Engine (SHE), LED-backlit display and Intel® Atom™ processor. These technologies combine to allow the Eee PC™ 1101HA and Eee PC™ 1005HA to run all day long, lasting up to 11 and 10.5 hours respectively on a single charge.* Both models also feature user-replaceable batteries and upgradeable RAM slots.
Extra-large Keyboard and Multi-touch Trackpad
The Eee PC™ 1101HA and Eee PC™ 1005HA employ a large 92% keyboard with full-sized shift keys for an extremely comfortable typing experience. The large keyboard is complemented by extra-wide palm rests and a seamless touchpad with a dimpled surface that supports multi-touch gestures.
All-New Eee Docking Software
The 1101HA and 1005HA are the first Eee PC™ netbooks to offer ASUS' new Eee Docking software, which provides easy access to utilities, software and digital content. It consists of Eee @Vibe, Eee Sharing, Eee Xperience and Eee Tools. Eee @Vibe is a one-stop content repository that gives users convenient access to music, videos, radio stations and much more. Eee Sharing makes it easy to share or sync messages and data with other Eee PC™ netbooks, notebooks, and desktop PCs—even without an Internet connection. Eee Xperience is a suite of applications that enhance the Eee PC's™ visual and acoustic performance**. Eee Tools comprises useful tools including Parental Control* and Font Resizer. Eee Docking and all of these suites are easily accessed as the software "docks" to the top of the screen and is semi-hidden when not in use.
Flexible Storage Options
The Eee PC™ 1101HA and Eee PC™ 1005HA boast high-speed 2.5-inch SATA II 160GB hard disk drives, providing more-than-ample storage for music, videos, movies and documents. Both models also come with 10GB of online Eee Storage** that allows users to access their files securely—anytime, anywhere.
Specifications
Go Anywhere in Style with the Eee PC™ Seashell
Model
1101HA
1005HA
Display
11.6″ LED Backlight WXGA Screen (1366×768) with Color-Shine (Glare-type)
10.1″ LED Backlight WSVGA Screen (1024×600) with Color-Shine
Operating System
Genuine Microsoft Windows® XP Home
Genuine Microsoft Windows® XP Home / GNU Linux**
CPU / Chipset
Intel® Atom™ Z520
Intel® Atom™ N270/N280
Default Memory
DDR2 SO-DIMM 1GB
DDR2 SO-DIMM 1GB
Hybrid Storage
160GB HDD + 10GB Eee Storage**
160GB HDD + 10GB Eee Storage**
Wireless Data Networking
WLAN 802.11b/g/n @2.4GHz, Bluetooth 2.1 + EDR**
WLAN 802.11b/g/n @2.4GHz**, Bluetooth 2.1 + EDR**
Battery Life
Li-ion battery pack:
11hrs* (6 cells, 63W/h)
9.5hrs* (6 cells,48W/h)
Li-ion battery pack:
10.5hrs* (6 cells, 63W/h)
8.5hrs* (6 cells, 48W/h)
4hrs* (3 cells, 23W/h)
Multimedia
Camera
1.3M Pixel
1.3M Pixel / 0.3M Pixel
Audio Codec
Hi-Definition Audio CODEC
Hi-Definition Audio CODEC
Speakers
Stereo Speakers
Stereo Speakers
Mic (internal)
Digital Mic
Digital Array Mic**
Interface
1 x VGA Connector, 3 x USB 2.0, 1 x LAN RJ-45, 2 x Audio Jack (Headphone / Mic-in), Card Reader: MMC/ SD (SDHC)
1 x VGA Connector, 3 x USB 2.0, 1 x LAN RJ-45, 2 x Audio Jack (Headphone / Mic-in), Card Reader: MMC/ SD (SDHC)
Physical
Dimensions
286mm x 196mm x 21.8~36.2mm
262mm x 178mm x 25.9~36.5mm
Weight
1.38Kg (with 6-cell battery)
1.27Kg (with 6-cell battery); 1.1kg (with 3-cell battery)
Color options
Pearl White, Crystal Black, Royal Blue, Rose Pink
White, Black, Blue, Pink**
Source: Asus