Hannspree North America, Inc., a leading developer of lifestyle and design-centric consumer electronic products,  announced its new line of 10″ ultra-mobile laptop PCs to the US market at $379.99 MSRP. The HannsNote is ideal for those that are always on-the-go and is offered in two colors: High-gloss Pearl Black and Pearl White.
With a footprint smaller than a letter-sized sheet of paper, the HannsNote fits easily in a backpack, briefcase, or even a handbag. And with the battery attached, it only weighs 2.9 lbs. The HannsNote includes a 6-Cell Lithum-Ion battery that will last up to 5 hours on a single charge. The HannsNote packs a big performance punch using latest technology, including Intel® Atom processor, Windows® XP operating system, 1GB RAM, 160GB HDD, 802.11b/g/n, Bluetooth 2.0, 1.3MP webcam, 3-in-1 card reader, and full-function keyboard. A protective carrying sleeve and cleaning cloth are included with the HannsNote, providing additional value to the user.
"We are entering the mini-laptop market with a strong product. The HannsNote offers many benefits to the consumer. This mini-laptop is ideal for business or school use, or for anyone who is always on-the-go because of its ultra-portability and performance. We are very confident not only in the quality and performance of the HannsNote, but also in the service we provide," said Wynn Yiu, president of Hannspree North America, Inc.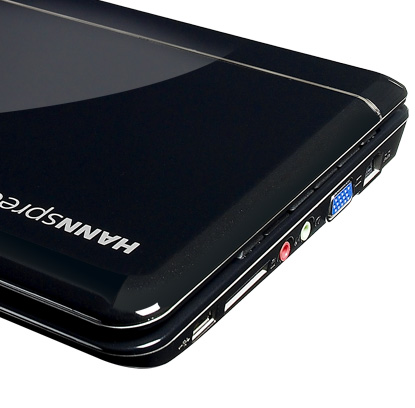 Pricing and Availability
MSRP: $379.99.
Online: tigerdirect.com and other fine e-tailers
Distribution: D&H
Pearl Black Model Number: SN10E11BUF
Pearl White Model Number: SN10E11WUF
Technical specifications and features:
10″ LCD with LED backlight
Intel® Atom™ N270 1.6GHz processor
Windows® XP Home Edition SP3
1GB RAM (Expandable up to 2GB)
160GB SATA HDD (5400 RPM)
802.11b/g/n, 10/100 LAN
Bluetooth® 2.0
1.3MP webcam
Built-in mic/stereo speakers
Full-function keyboard
3-in-1 card reader
6-Cell Li-Ion battery
Protective sleeve and cleaning cloth included
2.9 lbs. with battery attached
10.2"(w) x 1.8″ (h) x 7.1″ (d) with battery attached
Energy Star and RoHS compliant
1-Year Parts and Labor Warranty / 6-Month Battery and Power Supply Warranty

Source: HANNSpree