Antec has released a second Gaming series computer case in 2012 with the first being the Three Hundred Two in January 2012 and now the One PC gaming case.
The new case is very versatile as it is designed for both budget-minded and enthusiast builders alike. Being the junior brother of the Antec Three Hundred Two, the Antec One case strongly resembles it although at a smaller size and hence a lower price point. While the Three Hundred Two costs around 70 USD, one can now find the Antec One for about 55 USD.
The new Antec case continues the brand tradition of designing and selling tool-less drive bays, rail-mount hard drive bays and PSU air filters for the bottom mounted power supply units.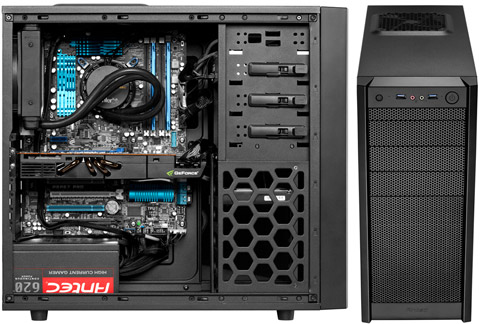 The Antec One includes one 120 mm top exhaust fan, one 120 mm rear exhaust fan and three optional 120 mm fans (side intake, front intake, and bottom fan), three 5.25″ drive bays, five 3.5″ drive bays and two 2.5″ drive bays, front USB 3.0 ports with included USB 2.0 adapter and Audio In/Out, seven expansion slots and 10.5″ (266 mm) maximum video card size and support for Standard ATX, microATX, Mini-ITX motherboards. Net case weight is 10.8 pounds while gross weight is 12.5 pounds. The case measures 18.2″ (H) x 9.5″ (W) x 20.9″ (D).
The Antec One case is available at Antec's web site.
Source: Tom's Hardware