Style-minded families, students and teens want to personalize their PCs to meet their performance and lifestyle needs – blogging, chatting, sending photos or running a media center. Highly-stylized products, like Dell's new Inspiron™ slim and mini-tower desktops, deliver on design and customization, transforming the brand from the "built-for-me" model, into "made-for-me."
Dell's new Inspiron slim and mini-towers expand the design and personalization possibilities for consumers. Available in eight vibrant colors, Dell is the only major consumer desktop manufacturer to offer such extensive personalization options to reflect individuals' personal style or to complement their bedroom or study.
Inspiron slim and mini-tower desktops debut today in China and are available for purchase through Dell.com, distributor Digital China or retailers Suning and Gome. Starting at $299 US, the systems will be available worldwide later this spring.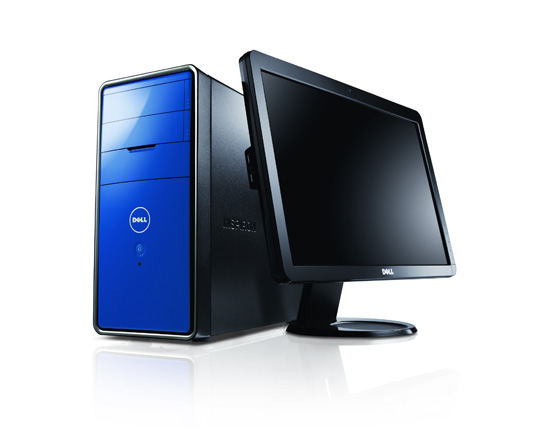 The News:
Dell's new Inspiron desktop lets people express themselves through choices of color (eight options), size (slim or mini-tower) and configuration.

Vivid color palette to express your personal style: Piano Black, Pure White, True Blue, Formula Red, Tangerine Orange, Spring Green, Plum Purple and Promise Pink.

Dell becomes the only major consumer desktop manufacturer to offer color options for the entire front of the machine.

Customizable options to meet individual's budget, lifestyle and usage needs.

Ideal for common tasks including email, Internet, blogging, entertainment (movies, music and casual gaming) and productivity.




Features available on the new Inspiron desktops include:

Intel® Celeron®, Intel Core™ 2 Duo and Intel Core 2 Quad options or AMD Sempron™, Athlon™ X2 and Phenom™ X4 processor options
Integrated Intel or ATI Radeon™ graphics* on select systems with discrete graphics options available

Up to 8GB* memory on select systems

Up to 750GB* storage (slim tower) or up to 1TB* storage (mini-tower)

Optional 19-in-1 media card reader and optional HDMI connectivity

6 USB ports (2 front, 4 back)

Dual optical options (mini-tower only) including Blu-ray Disc™ drive

Small form factor with its versatile horizontal or vertical placement is designed to easily fit into your home media center (slim tower only)
Quote:
"Customers are given complete control in choosing processors, form factors and colors to build an Inspiron desktop that's high in function and style. There's versatility to customize a system that fits into everyone's lifestyle and budget." — John Terwilliger, director, consumer desktop product marketing
* Hard Drives: GB means 1 billion bytes and TB equals 1 trillion bytes; actual capacity varies with preloaded material and operating environment and will be less.
Systems with 4GB Memory or Greater: Up to 1GB may not be available with 32-bit operating systems due to system resource requirements.
Graphics and System Memory: Significant system memory may be used to support graphics, depending on system memory size and other factors.
System Size Comparison: Comparison based on volume.
Dell and Inspiron are trademarks of Dell Inc. Intel, Celeron, Pentium and Core are trademarks or registered trademarks of Intel Corporation or its subsidiaries in the United States of America and other countries. Sempron, Athlon, Phenom and Radeon are trademarks of Advanced Micro Devices, Inc. Microsoft, Windows and Windows Vista are registered trademarks of Microsoft Corporation or its subsidiaries in the United States of America and other countries. Other trademarks or trade names may be used in this document to refer to either the entities claiming the marks and names or their products. Dell disclaims proprietary interest in the marks and names of others.
Source: Press Release