Thermaltake has enriched the PC chassis market with a new offer, called Suppressor F51. The new PC chassis is a mid-tower case that can come with a window or without it and offers hardware enthusiasts state-of-the-art noise reduction panels on all sides, removable panels for improved cooling options and lower inside temperatures.
As with any other PC chassis the Suppressor F51 is built for motherboards – the new case supports a wide range of motherboards from mini ITX boards to E-ATX solutions and there's enough space for the largest video card there is (up to 465 mm). The case features tool-less 5.25-inch and 3.5-inch drive bays but there's more – the Suppressor F51 has hidden drive bays in the back so that your chassis can look better up front. The case includes a 2+6 drive bay with modular drive racks, which means that users will be able to use a large number of hard drives or SSDs in this case with no problems at all.
Thermaltake has also thought of the Suppressor F51 cooling – the case offers support for multiple 120/140/200 mm cooling fans and there's support for liquid cooling for single, dual and triple radiator applications. The case leaves it to you where to place the cooling fan – it comes with a single built-in 200 mm front fan and has options for up to three 120 mm or 140 mm front fans with a provided optional ODD bridge as well as two bottom mount 120 mm fan locations and three sectional top mounts for improved air flow. The picture is completed by a single built-in 140 mm cooling fan.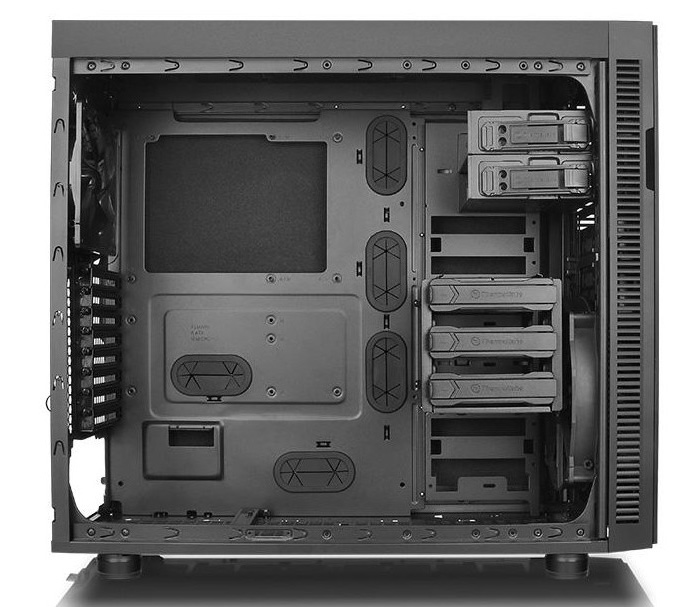 Despite the abundance of fans the Suppressor F51 can be surprisingly quiet thanks to built-in sound-damping panels on all sides except the bottom. This makes the chassis extra quiet even when using a number of cooling fans. If you remove the top sound-damping cover, the Suppressor F51 will provide you with improved heat dissipation so expect a drop in temperatures.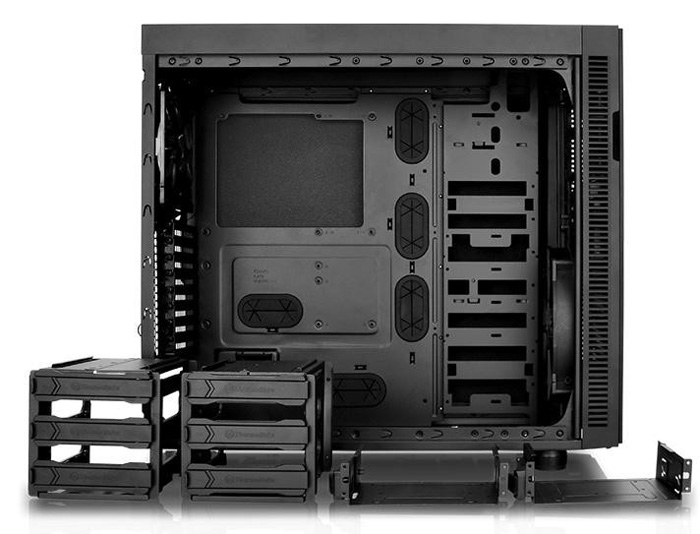 Thermaltake will exhibit the Suppressor F51 and the windowed Suppressor F51 Window version at the upcoming Computex 2015 in Taipei, Taiwan so if you are there you can check out the chassis on your own. No word on pricing or availability as of now.
Source: Thermaltake