The first thing that people see when looking at a personal computer is the chassis, not the hardware inside. So what's the point of having the best hardware in the world if you have an ugly-looking case that is a decade old?
This is what the people at Thermaltake must have thought when they were designing the just released Core WP200 PC case. The new Thermaltake case is a mammoth thing – the case is as big as a cabinet and has enough space to house all kinds of hardware components, including the latest and greatest liquid cooling solutions. In fact the Thermaltake Core WP200 case consists of two components – the Core W200 PC case and the Core P200 add-on, which houses all the cooling fans you may ever need. As you probably expect by now, the Thermaltake Core WP200 targets hardware enthusiasts, overclockers and people who just want to have a large and really good-looking case.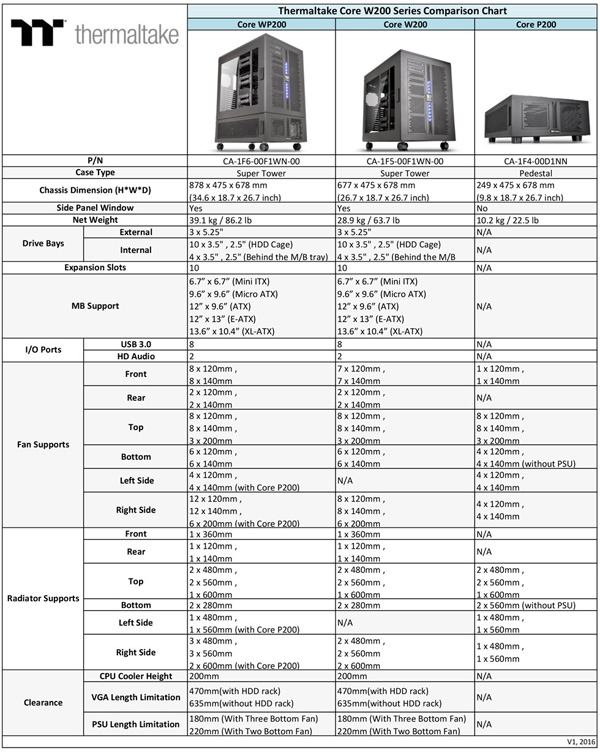 The Core W200 itself measures 677 x 475 x 678 mm (26.7 x 18.7 x 26.7 inches) and weighs 28.9 kilograms (63.7 pounds). The case comes colored in black and has a transparent window, three accessible 5.25-inch bays, ten 3.5-inch (or 2.5-inch with a HDD cage) internal drive bays, four more 3.5-inch (2.5-inch with a HDD cage) drive bays behind the motherboard and ten expansion slots. The case is compatible with mini-ITX, micro-ATX, ATX, E-ATX and XL-ATX motherboards and features enough space for two power supply units. In addition to this the Core W200 can take seven 120 mm or 140 mm front fans, eight 120 mm or 140 mm fans or three 200 mm top fans, two 120 mm or two 140 mm rear fans, six 120 mm or six 140 mm bottom fans and eight 120 mm/140 mm or six 200 mm right side fans. The case can also house CPU coolers that are up to 200 mm high, VGA cards that are up to 470 mm long (with HDD rack) and up to 635 mm long (with no HDD rack) and PSUs that are up to 180 mm long (with three bottom fans) and up to 220 mm long (with two bottom fans).
The Thermaltake Core W200, Core P200 and Core WP200 will be in stores soon. There's no information on pricing as of now.
Source: Thermaltake