Scythe company announced the launch of a new high CPU cooler series DEEP COOL, under the name ICE BLADE PRO, compatible with socket LGA775/1366 (Intel) and 754/939/940/AM2/AM2 + (AMD).
The model weighs 929 grams has dimensions 125.5 x 104 x 157 millimeters and is created by modern technology HDT (Heat-pipe Direct Touch), which provides direct contact with the surface of the chip through four U-shaped copper heat pipes with a diameter of 8 millimeters each.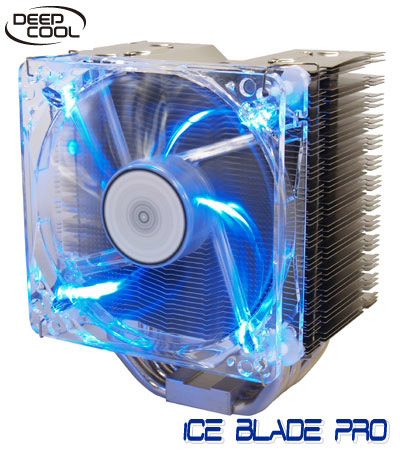 The speed of fan is adjusted according to changes in temperature (900 of 1500 turnover per minute) air flow – up to 60.29 cubic feet of air per minute and create noise around 21,4-32,1 dB. The cooler  is equipped with blue LED lights. No information about price and date of appearance.