Thermaltake proudly presents the new passive VGA cooler, Fanless 330. The passive design of Fanless 330 offers the absolute quiet operation environment for all the gamers and graphic designers who especially require supports of high end graphic cards.
Silent operation, however, isn't the only thing that's making Fanless 330 the next big hit on the cooling hardware market. There are three heatsink modules on SpinQ to dissipate GPU heat, and 4 efficient copper heatpipes speeding up the heat transfer. In order to further boost up the performance, the mirror coating base also ensures these well designed cooling structures on Fanless 330 are in perfect contact with the GPU.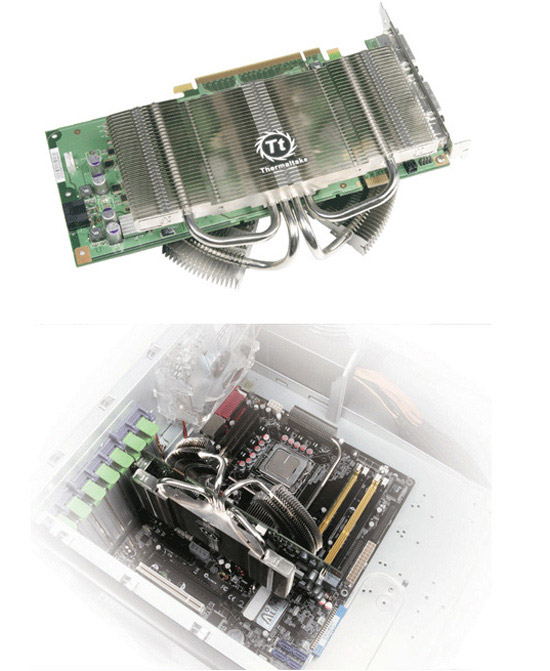 Fanless 330, the new passive graphic card cooler from Thermaltake, has the most unique mechanical design never seen on the market. It does not just offer 0bBA operating environment, but great cooling performance and distinguishing style too!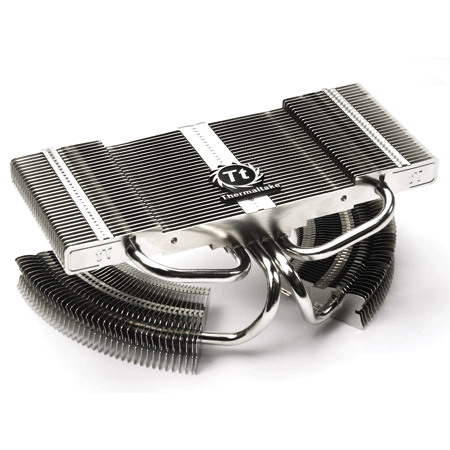 Features
– Completely Silent – Fanless design gives no noise operation
– 3 Heatsink Modules in One – 4 heatpipes & 106 fins make 3 single heatsink modules
and get multiple cooling performance
– Completely Silent – passive fanless design makes no noise but also good cooling effect
– Dual Layer Structure with 3 Heatsink Modules : conducts heat effectively from GPU and
gets more surfaces to dissipate
Specification
Model

CL-G0115

Compatibility

nVidia :
Geforce 9600GT
Geforce 8800GT
Geforce 8600 Series
Geforce 8500 Series
Geforce 7800/7900 Series
Geforce 7600 Series
Geforce 6600 Series
Geforce 6800 Series
Geforce FX 5900/5950 Series
Geforce FX 5700/5800 Series

ATi :
HD 3850 Series
HD 2600 Series
HD 2400 Series
X1900 Series
X1800 Series
X1600 Series
Radeon X800/850 Series

Heatsink Dimension

180mm x 123.2mm x 68.6mm

Heatsink Material

106 Aluminum Fins + Copper Base

Heatpipe

ø 6 mm x 4

Weight

260g
Check it out at the official website below: