Set your family's soundtrack with home audio products from Memorex, one of the most widely recognized names in the consumer electronics industry and a portfolio brand of Imation Corp . The brand's newest audio products, including the iPod®- and iPhone®-compatible Memorex Portable Audio Systems and alarm clock docking stations offer smart new design and fresh features that make music fun and friendly—a theme carried across all Memorex products.
"We've heard from parents that they are looking for ways to share music to inspire fun and meaningful moments—to create more 'WeTime' as a family," said Jess Walton, global brand manager for Memorex. "Our newest iPod and iPhone speaker stations feature fun extras, high-quality sound, easy-to-enjoy operation and fun extras—leaving more time for families to enjoy the music and join the fun."
Whether it's while doing the dishes, making dinner or participating in other at-home activities, families are breaking out in impromptu dance parties and sing-alongs together throughout the home, according to the recent WeTime Parent Survey conducted online by Harris Interactive from November 4–10, 2009 on behalf of Memorex. Twenty-seven percent of all parents surveyed selected "turn up the music and hold a sing-along or dance party" as a favorite at-home WeTime activity. In fact, it's a favorite activity for 40 percent of families with children newborn through age seven. With room-filling sound to accompany these spontaneous moments, Memorex audio products are perfect to help families enjoy the music and fun of WeTime together.
Carry Your Tunes
Providing the ultimate flexibility for music sharing inside or outside the home, two new Memorex Portable Audio Systems feature integrated collapsible handles and lightweight lithium-ion rechargeable batteries for increased portability. And, with durable, rubberized bottoms, the systems stay in place—no matter how much dancing activity there is in the room.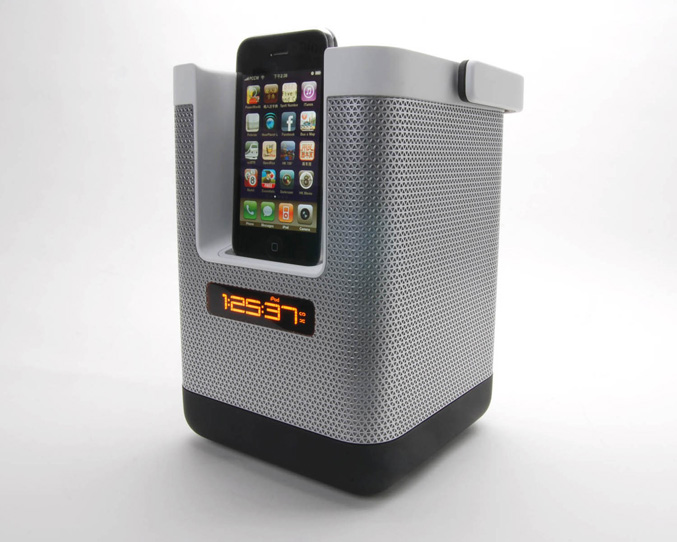 The Memorex Portable Audio System (Mi7805P) will get your family grooving together with four multi-directional speakers for room-filling sound. In addition to playing and charging all iPhone and iPod devices, this system also includes a top-loading CD player and digital AM/FM tuner to play your favorite tunes or programs regardless of the source. A full-function wireless remote is also included.
A more compact version of the Mi7805P, the Memorex Portable Audio System Lite (Mi7706P), makes music social with front and side speakers, iPod and iPhone compatibility and a digital FM tuner, as well as an integrated collapsible handle—making it perfect for music lovers at home or on the go.
Start Your Day Off Right
There's no better way to start your day than with your favorite sounds. The Memorex Dual Alarm Clock (Mi4703SP) features a compact, stylish design that allows your iPod or iPhone to play as it charges in a unique cradle position. Front and side speakers offer ample wake-up sound while the six-step dimmer switch display, sleep timer and battery backup provide the functionality consumers look for in a dual AM/FM alarm clock. For smaller spaces, the Memorex Mini Alarm Clock (Mi4604) is the only alarm clock under $50 that offers iPhone compatibility.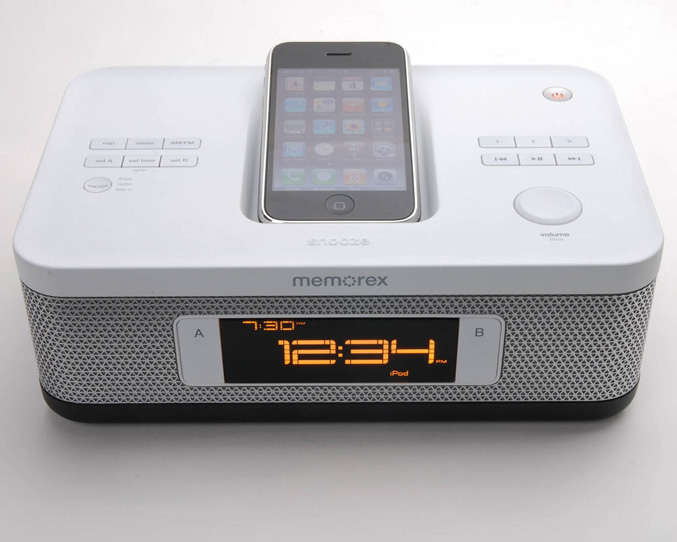 All Memorex audio products are expected to be available in U.S. retail the third quarter of 2010. The Memorex Portable Audio System (Mi7805P) has an MSRP of $149.99; Memorex Portable Audio System Lite (Mi7706P) has an MSRP of $99.99; Memorex Dual Alarm Clock (Mi4703SP) has an MSRP of $69.99 and Memorex Mini Alarm Clock (Mi4604) MSRP is $49.99. For additional information, visit www.memorex.com.
Source: Memorex