Samsung Telecommunications America (Samsung Mobile), the No.1 mobile phone provider in the United States, today announced the availability of the new, sleek convertible-style Bluetooth® headset, the Samsung Modus™ (HM3500). The premium-featured Modus is an affordable headset that offers dual microphone and noise cancelling technology that converts to a Stereo Bluetooth headset for an enhanced mobile experience.
The Modus supports a multitude of advanced features such as noise cancellation with a dual microphone design to separate the user's voice from the surrounding background noise. . In addition to sound quality, the Modus offers advanced multipoint technology that allows seamless connectivity between two Bluetooth-enabled audio-streaming devices, including mobile phones, computers and MP3 players. When enjoying rich, full-fidelity Bluetooth stereo while also connected to a phone, the Modus will gently mute the stereo audio, allowing the user to answer or initiate phone calls and seamlessly restores its settings when the call is complete. The user can also stream full fidelity audio and enjoy the rich sound through the single earpiece of the Bluetooth headset.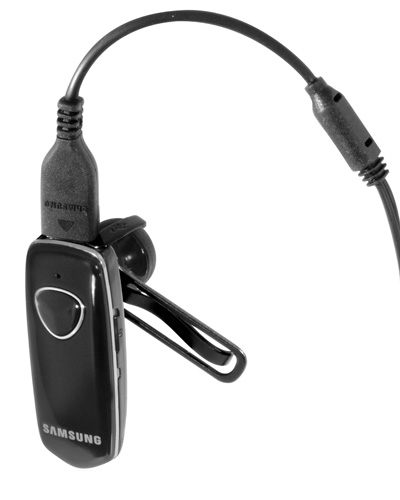 The Modus, featuring a sleek and stylish fluid design, is intended for consumers looking for a conventional noise-cancelling Bluetooth headset with the capability to stream stereo audio. It can be worn as a mono-style headset for placing and receiving calls and readily transforms into a stereo Bluetooth headset when connected to the included stereo ear bud headset for an enhanced audio experience.
Key Modus Product Features
Mono & stereo dual headset
Removable ear hook
Multiple sized ergonomic rubber ear buds for added comfort
Stereo earbuds with minimal wires and clip to secure wires in place
Advanced multipoint technology connecting to two phones
Audio streaming
Bluetooth version 2.1+EDR
Noise reduction: 2-Mic NR/EC
Talk & standby time: 6h/200h
AVC (Auto Volume Control)
Profile: HSP, HFP, A2DP
Power switch
Micro USB interface
Battery level check
Proximity pairing – place phone and headset within 6" and auto pair.
Source: Samsung