Talking while on the go has never been easier with Motorola H790 Universal Bluetooth headset and Motorola T215 Bluetooth In-Car Speakerphone. H790 is Motorola's thinnest dual-microphone headset and T215 is a no-nonsense in-car speakerphone that offers the longest talk time, up to 36 hours. Plus, both products help cancel background noise so you can hear and be heard even in noisy environments.
Motorola H790: Sleeker Never Sounded Better
Compliment your style while taking crystal clear, hands-free calls with Motorola's newest Bluetooth headset1, the Motorola H790. This sleekly-designed accessory delivers an outstanding audio experience on a dual-microphone headset, and is as easy to use as it is to wear.
In Style
H790 is designed to fit what you're wearing and where you're going. As Motorola's thinnest dual-microphone headset, it strikes a balance between style, sensibility and awe-inspiring technology to get you noticed, in the right way.
Sound Off
H790 delivers outstanding call quality using Motorola's CrystalTalkTM technology, which suppresses background noise for pure-sounding calls, so you can hear and be heard even in noisy environments. Whether you're performing tasks around the house, running errands, traveling or shopping, you'll be able to carry on your conversation in clear call quality.
Hook Yourself Up
Become a headset master in no time with audible voice prompts that instruct you on pairing the headset, checking battery life and connecting. Voice prompts alert you when mute is on or off to avoid confusion, and makes multiple phone pairing a breeze so you can take hands-free calls from both phones you carry1 to keep your life in order. With voice prompt battery life alerts you can be ready to go in minutes using Rapid Charge to generate 2.5 hours of power in just 15 minutes.
Motorola T215 Bluetooth In-Car Speakerphone
Technology should never slow you down when you're on the road. No matter where you are headed, you can count on Motorola T215 Bluetooth In-Car Speakerphone. It offers the longest talk time, up to 36 hours, for a portable in-car hands-free device1. And comes fully equipped with Motorola's world-class audio quality to ensure you have clear conversations while keeping your eyes on the road2 and your life in motion.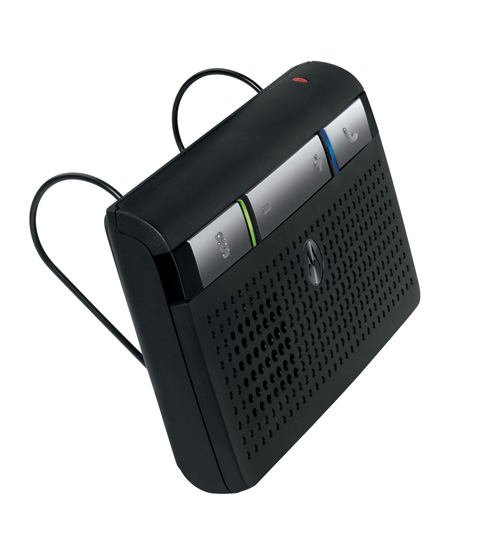 Loud and Clear
With Motorola T215, conversations are clearly heard thanks to a powerful two watt speaker, noise and echo cancellation technology, and a dedicated mute button. Plus, with the easy-to-find call button, you can place calls effortlessly and responsibly while on the road. You won't miss a beat with the adjustable volume control that ensures you can hear every word of the conversation.
Road Ready
Motorola T215 has been tested and retested to ensure reliability and durability. Not only does it feature the longest talk time on a portable hands-free car kit without a re-charge, it's designed to withstand the coldest winters and the hottest summers, so you can keep talking with confidence. A sturdy wire clip secures the device to any car's visor, and it easily detaches to be used on another vehicle.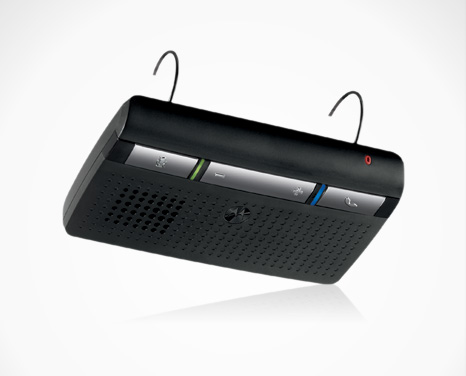 Universal Harmony
Worried about phone compatibility? Don't be with Motorola T215. It can be paired with any compatible Bluetooth-enabled phone on the planet. A Bluetooth indicator shows when the device is paired to the phone so there are never any worries about being connected.
Source: Motorola