Swift, slim and resourceful are three words that accurately describe the new Nokia E72, which was unveiled at the Nokia Connection event in Singapore today. Nokia's latest full QWERTY smartphone brings a rich mobile email and instant messaging experience right out of the box, making it the ideal device for people that want to be productive in both their personal and professional lives.
Building on the formula from the hugely successful Nokia E71, Nokia's best selling QWERTY device to date, this latest arrival in Nokia's Eseries family maintains essential elements of its predecessor, whilst still improving its capabilities in a number of areas. "Despite the outstanding market performance of the Nokia E71, we still continually look for ways to enhance the device," said Ilari Nurmi, Vice President at Nokia. "So we included the desktop like email experience from the Nokia E75 and gave it a new optical navigation key for more intuitive scrolling through menus, emails and fast panning of images. We also upgraded the camera to 5 megapixels and added a standard 3.5 mm audio jack."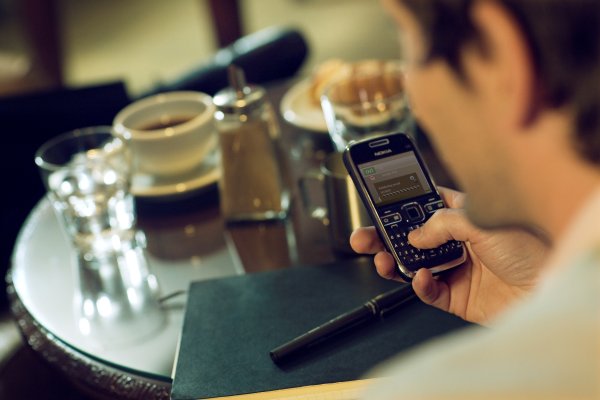 On top of these developments, for the first time, owners will be able to set up instant messaging (IM) accounts provided by Nokia Messaging direct from the homescreen. In just a few steps, device owners will be able to connect to their favorite IM accounts such as Yahoo! Messenger, Google Talk and Ovi, amongst many others.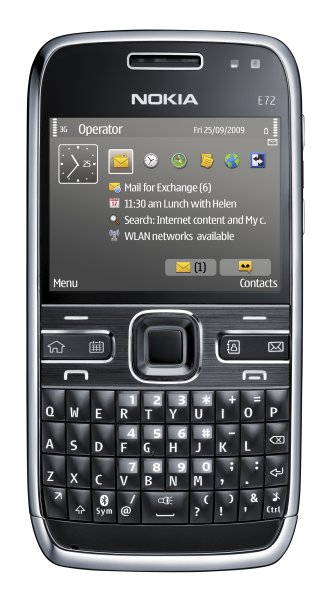 These new IM features are complimented by Nokia's range of email solutions with a lifetime license for Nokia's mobile email and IM service, Nokia Messaging, as well as onboard clients for Mail for Exchange and IBM Lotus Notes Traveler. Accessing popular accounts such as Yahoo! Mail, Gmail, Windows Live Hotmail, Ovi Mail and thousands of other email service providers is simple through improved on-device email setup, with the same easy to use UI integrating all of the owner's corporate email accounts as well.
Performance improvements are evident throughout the user experience including faster Internet up- and downlink speeds. Other notable features which should make the Nokia E72 as popular as recent Nokia Eseries introductions include A-GPS and compass with integrated Maps, including lifetime walk and 10 days of turn-by-turn navigation if activated within the first three months. Conversations are also clearer with active noise cancellation, and a torch can be activated with a single press of the spacebar key. The office capabilities have been updated with a new version of Quickoffice, which delivers Microsoft Office 2007 compatibility as well as free version upgrades when new features become available.
The Nokia E72 is expected to begin shipping late in the third quarter of 2009 at an estimated retail price of EUR 350 before taxes and subsidies.
Source: Nokia