Since launching, the EyeClops® line of products from JAKKS Pacific, Inc. has delivered high end electronics experiences at mass price points, resulting in a wide array of honors and awards from industry peers, consumer media and retailers worldwide. JAKKS Pacific plans to extend the innovation for 2009 with a whole line of other new EyeClops products for everyone in the household, including the EyeClops® Mini Projector, which empowers the whole family to take their favorite media, such as movies, TV shows, music videos, even video games, and view them almost anywhere, for a larger than life entertainment experience.
Award-Winning EyeClops Night Vision Goggles to Also Launch New and Improved with a Lower Price for 2009
Ever wish you could watch movies on your bedroom ceiling? Play video games outside in a backyard tent? Project the football game on the side of your house so the whole party can watch the big game outdoors? Now it's possible with the EyeClops Mini Projector, a big screen TV experience that fits in the palm of your hand.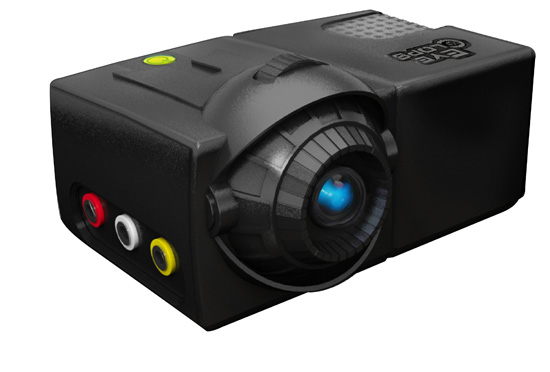 The EyeClops Mini Projector is pocket-sized and light weight, so you can take it anywhere indoors, outdoors and on-the-go, and it uses high-powered LED illumination to project movies, television shows, video games and more up to 70 inches in size from virtually any multi-media device: Blu-ray and DVD players, MP3 and video players, video game consoles – including JAKKS' own Plug It In & Play TV Games™ products – and even digital cameras! The EyeClops Mini Projector has built-in speakers and provides up to 10 hours of entertainment using 'D' batteries, or unlimited power with the included DC adapter. Ages 8+, Suggested Retail Price: $99.99
In 2008, the EyeClops® Night Vision Goggles received multiple toy awards, including nominations for Boys Toy of the Year and Most Innovative Toy of the Year. For 2009 EyeClops™ Night Vision 2.0 Binoculars deliver an improved, action-styling handheld design and the power to see with both eyes! And, of course, the new handheld Night Vision 2.0 Binoculars allow visibility up to 50 feet in completely dark environments. Covert operations…nocturnal maneuvers…with EyeClops Night Vision equipment, kids rule the night! Ages 8+, Suggested Retail Price: $59.99
Small but powerful, the new and improved EyeClops® Bionic Eye SE is a smaller version of the award-winning Bionic Eye. The Bionic Eye SE is still a simple-to-use handheld device that allows kids and adults to view everyday objects on the TV at 200 times their regular size, but now fits in the palm of your hand! Simply plug into the AV jacks of any standard TV for an eye popping view of the world around you! Ages 6+, Suggested Retail Price: $39.99
"With our 2009 EyeClops line-up, we are taking consumer electronics that are typically expensive and out of reach for most families and bringing them to the toy aisle with fun, playable features and at an affordable price," said John Ardell, Senior Vice-President of Interactive, JAKKS Pacific, Inc. "We are very sensitive to how the tough economic environment is affecting families. With the EyeClops Mini Projector, a high end entertainment experience is now portable and affordable. Now families can have movie nights at home over and over for the price of a family night out. And we have taken our popular EyeClops Night Vision and Bionic Eye lineup and made them better and at a lower price point."
The new EyeClops products are expected to hit shelves at specialty and mass retailers in Fall 2009. For more information on the entire EyeClops line from JAKKS Pacific®, please go to www.eyeclops.com.
About JAKKS Pacific, Inc.
JAKKS Pacific, Inc. (NASDAQ:JAKK) is a leading designer and marketer of toys and consumer products, with a wide range of products that feature some of the most popular children's toy licenses in the world. JAKKS' diverse portfolio includes Action Figures, Art Activity Kits, Stationery, Writing Instruments, Performance Kites, Water Toys, Sports Activity Toys, Vehicles, Infant/Pre-School, Plush, Construction Toys, Electronics, Dolls, Dress-Up, Role Play, and Pet Toys and Accessories, sold under various proprietary brands including JAKKS Pacific®, Play Along®, Flying Colors®, Creative Designs International™, Road Champs®, Child Guidance®, Pentech®, Funnoodle®, Go Fly a Kite®, Color Workshop®, JAKKS Pets™, EyeClops®, Plug It In & Play TV Games™, Girl Gourmet™, Kids Only®, Tollytots® and Disguise. JAKKS is an award-winning licensee of several hundred nationally and internationally known trademarks including Disney, Nickelodeon, Warner Bros., World Wrestling Entertainment, Ultimate Fighting Championship, Graco® and Cabbage Patch Kids. JAKKS and THQ Inc. participate in a joint venture that has worldwide rights to publish and market World Wrestling Entertainment video games. For further information, visit www.jakks.com.