Sony Corporation has developed a new liquid crystal alignment technique called "Hybrid FPA (field-induced photo-reactive alignment)" which enables a significantly faster response time for liquid crystal displays and also improve picture quality, allows higher contrast and enables high frame rate video.
But this is not all, according Sony the new technology will improve 'product stability' during the display panel manufacturing process and will achieve production efficiencies by reducing the manufacturing process and time. The new "Hybrid FPA" technology is the result of further development of the Sony's  previously developed "FPA" high-speed liquid crystal response alignment technique based on vertical alignment (VA) liquid crystal modes.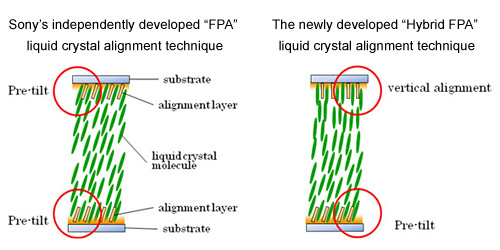 The new technology has achieved an even faster liquid crystal response time of 3ms by maintained the pre-tilt on just one side of the substrate alignment layer. The Hybrid FPA technology is presenting now at the IDW '10 (International Display Workshops) conference in Fukuoka City, Japan.