Speakal announce full product line availability on Amazon.com. The Seattle-based e-commerce retailer will now stock and ship all models of the iPig, iPanda and iBoo. Consumers have clamored for additional purchasing avenues for these award-winning iPod® docking stations that have been featured on a number of national media outlets, including NBC's Today Show, in InStyle, Glamour and Maxim magazines.
"We're thrilled to have our products available on such a massive online marketplace," said Speakal CEO David Solomon. "Amazon.com is a household name that had a tremendous reputation for quality and service. The brand instills confidence in their customers and we are excited about this strategic alliance," added Solomon.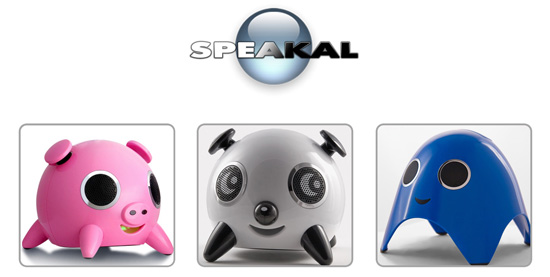 Speakal's Products Feature:
Extraordinary Design Elements – Distinctive smiley mouth acts as sensor for receiving remote control commands. Eyes are two mid- and high-range speakers while the subwoofer is hidden below for downward firing. Included rubberized feet to prevent rattling while powered on.
On-Board Navigation – Patented humanized touch volume control and music navigation
High Quality Sound – 4 speakers, a 4" subwoofer and 25 watts of powerful sound. Adjustable Bass Control with Bass Reflex Technology. 360° Sound Distribution. Onboard Hi-Fi amplifier, dynamic airflow optimizer, interior dynamic cooling exchange and high sound stabilization to produce a clear powerful sound (some models feature varying audio features).
Extensive Compatibility – iPod dock with numerous included cradles, standard auxiliary 3.5 mm input jack providing connectivity to most portable and non portable audio players, gaming consoles, mobile gaming devices, cellular phones, televisions, desktop PCs, laptops and various other devices.
Environmentally Friendly – As GREEN and RoHS product, the iBoo, iPig and iPanda efficiently utilizes minimal energy and is designed using environmentally friendly components and non-hazardous materials.
Remote Control – Complete with audio controls and iPod® menu functionality
Full 1 Year Manufacturer's Warranty
For more specific information about Speakal and their full and upcoming product line, please visit www.speakal.com.