Onkyo, one of the world's leading hi-fi and home cinema brands, has introduced four new entry-level and midrange home cinema receivers for 2010 that offer unparalleled performance, features and facilities at their price points… something, it has to be said, of an Onkyo tradition.
Common to all four models are Dolby TrueHD/DTS-HD Master Audio decoding, 3D video compatibility (via HDMI 1.4 connectivity) and Onkyo's innovative Universal port, a connection that allows the addition of DAB+ tuners and iPod/iPhone docks via a single cable connection (no extra power socket).
Topping the list of new models is the mighty TX-SR608 7.2-channel HD home cinema receiver. Offering a hefty output of 7 x 160 watts this model is THX Select2 Plus certified, guaranteeing an assured high level of performance in rooms (up to 56 cubic metres) where viewers sit 3-4 metres away from the screen. No other receiver in this class has ever been awarded THX Select2 status…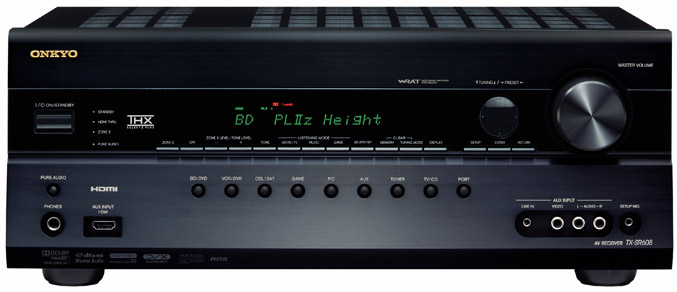 The best-selling TX-SR607 was the first to market with Dolby Pro Logic IIz mode 2009 so Onkyo has decided to go one better with the TX-SR608… by providing it with Audyssey DSX too. This mode lets users reconfigure the surround back channel speakers as either front height or front width speakers, creating a more immersive home cinema experience with heightened ambience.
Onkyo are great believers in the notion that enhanced simplicity should accompany improved performance. That's why the TX-SR608 also boasts HDMI video upscaling to 1080p, courtesy of Faroudja's DCDi (Directional Correlational Deinterlacing) Cinema video processor. Smooth progressive looking video quality is now guaranteed, no matter what the original source resolution… all delivered via a single HDMI cable to a flatscreen display.
There's currently a great buzz around the arrival of 3D video so Onkyo has decided to futureproof all its 2010 receivers with the necessary HDMI 1.4 connectivity, in the TX-SR608's case there are five rear-mounted HDMI inputs and one on the front panel. When 3D-compatible TVs and Blu-ray players arrive Onkyo's 2010 range of receivers will be ready and waiting for them.
The other more immediate advantage is that the new standard also allows us to provide an Audio Return Channel via HDMI. This means that Audio content received via an HDTV's tuner can now be sent for decoding/amplification to the TX-SR608 (and all its siblings) via the HDMI connection, thus removing the need for an extra digital optical cable between display.
There's more good news on the video front. The TX-SR608 comes with new connection… a PC-compatible analogue RGB video input. Multimedia fans and gamers alike will now be able to route the video output from their Desktop/Media Centre PC or netbook directly to the TX-SR608 and then through to their flatscreen via HDMI. Another first for Onkyo…
Naturally there's full decoding of lossless formats like Dolby TrueHD and DTS-HD Master Audio, along with 192kHz/24-bit Burr-Brown DACS (PCM1690) used for all channels. The latter offer a high dynamic range of 113dB as well as a remarkable resistance to audio clock-jitter, thus improving sonic fidelity.

Setting up the receiver is as easy as it ever was, thanks to a suite of Audyssey technologies (2EQ, Dynamic Volume and Dynamic EQ) while a new semi-transparent overlaid GUI (Graphical User Interface) will reinforce Onkyo's reputation for proving the most easily operable receivers on the market.
Last but not least, a Powered Zone 2 facility means that it's possible to enjoy a different audio source in a second room while dual subwoofer outputs will allow enthusiasts to create a properly balanced subwoofer configuration in larger rooms.
Onkyo has a long tradition of giving its customers the widest choice to meet their precise needs so there are three further affordable models available. The step-down TX-SR578 is a 7.1 receiver delivering slightly less power than the TX-SR608, at still pretty healthy 7 x 130w. It, too, has HDMI video upscaling to 1080p, courtesy of Faroudja's DCDi Cinema but it forgoes the TX-SR608's front-panel mounted HDMI input (there are four at the rear), PC video connectivity and Audyssey DSX mode.

Those that don't need a 1080p video upscaling facility built into a receiver can instead opt for the 7.1-channel TX-SR508. This model is just as powerful as the TX-SR578 but offers a useful cost saving thanks to the very slightly reduced feature set. The DACs (192kHz/24-bit Burr-Brown PCM1690) and 32-bit DSP chips, however, are exactly the same as those used in the models above it so there's absolutely no compromise in audio resolution.
Last but definitely not least, comes the TX-SR308. Our entry-level 5.1-channel model boasts a trio of HDMI 1.4 inputs, a power output of 5 x 100w plus a front-panel audio input. What's more the presence of Onkyo's Universal port makes adding a UP-DT1 DAB+ tuner or a UP-A1 iPhone/iPod dock to the receiver very straightforward.
Source: Onkyo