Yamaha has announced a new line of A/V receivers with codename AVENTAGE (pronounced Ah-Ven-Taj) that is complement to Yamaha's award-winning RX-V line. The new series have been redesigned from the ground up and will "brings studio grade sound and sophisticated video enhancements to your home with unparalleled attention to detail in design, engineering, and fabrication."
The new line have a specially designed 5th Foot" to improve structural rigidity, reduce vibration and improve sound", as well Yamaha incorporated double-bottom construction on select models to improve peak performance.  Yamaha's AVENTAGE Series line includes five models – the RX-A700 (90W x 7; MSRP: $649.95), RX-A800 (95W x 7; MSRP: $799.95), RX-A1000 (105W x 7; MSRP $1099.95), RX-A2000 (130W x 7; MSRP $1499.95) and the RX-A3000 (140W x 7; MSRP $1899.95). All five receivers are compatible with 3D Blu-ray and 3D Cable/Satellite formats, offers  7.2 channels with full HD Audio decoding (Dolby TrueHD and DTS-HD Master Audio; Dolby Digital Plus and DTS-HD High Resolution Audio); Four SCENE buttons; iPod compatibility (with optional YDS-12 or YID-W10 wireless yAired dock); Bluetooth compatibility; DLNA (1.5) compatibility on select units; Compressed Music Enhancer; Low Jitter PLL Circuitry; HDMI V.1.4a 3D Pass-through, HDMI switching and upscaling.
The top two models in the series, Yamaha claims that are the industry's first A/V receivers to incorporate the exceptional HQV ―Vida video processing chipset, which enhances image detail and quality with four-field motion adaptive de-interlacing, multi cadence tracking, expanded 12-bit color processing and detail enhancement.
The lowest end RX-A700 offers 7.2 channel (90W x 7) supports 3D and Audio Return channel over 6 in/1 out HDMI, has new GUI with overlay on HD and 3D sources, CINEMA DSP 3D, with or without Front Presence Speakers, RS-232C interface and  YPAO Automatic System Calibration,  which automatically set the best sound for the room, no matter where the speakers are.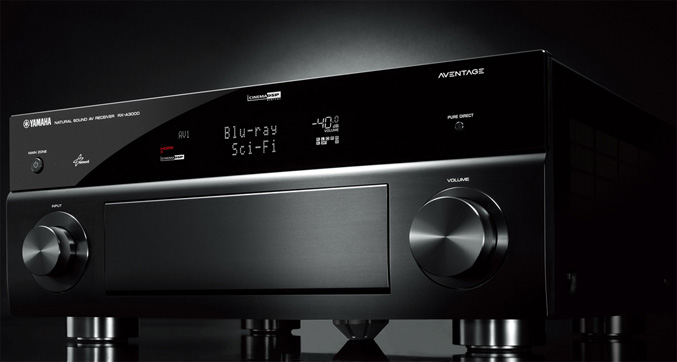 The high-end  RX-A3000 A/V Receiver offers 3D and Audio Return Channel over 8 in/2 out HDMI, CINEMA DSP 3D, HQV video quality, new GUI with overlay on HD and 3D sources, new YPAO with Reflected Sound Control, network functions, control via web browser, Zone 4 digital output and Control4 certification, as well plenty of connection options.

"Yamaha had one goal in mind in creating the AVENTAGE series: to achieve the purest, best-sounding audio and the best video reproduction possible,‖ said Tom Sumner, President of Yamaha Electronics Corporation. ―Our engineers obsessed over every last detail. They didn't simply pick components that were labeled as having the best specs. Instead, they made countless refinements, representing hundreds of variables, and then listened intently to ensure these changes would provide peak performance. These are the best-sounding receivers we have ever made, and I believe our customers will appreciate the meticulous attention we've given to them. This is just one reason why AVENTAGE boasts a 50 percent longer warranty"
The AVENTAGE series will be available August and September 2010.