Creative Technology announced two new over-the-ear headphones for music enthusiasts. The first are the lightweight Creative HQ-1450, which have a 30mm Neodymium (Ne-Fe-B) magnet drivers with frequency range of 20Hz-20kHz, impedance of 32ohms,  and features an adjustable black metallic ultra-thin headband, allowing easily worn over a cap.
The compact with Supra-Aural design HQ-1450 are available in four differentcolors: traffic-stopping red, skyline blue, garden green or monochrome black and comes with 3.5mm mini gold plated connector for $49.00.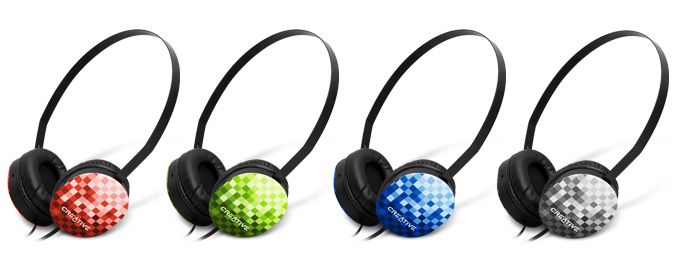 The others are Creative HQ-1600, which has a circum-aural closed-back earcup design, that completely covers your ears to reduce any ambient noise, the earcups are cushioned with soft leatherette padding  and have a 40mm Neodymium drivers with requency range of 20Hz-20kHz, impedance of 32ohms. The headphones also have an adjustable headband,  copper-clad lluminum wire voice coil for better, balanced sound, gold plated connector and cost $69.00.