Creative Technology Ltd. has decided to release two additional sound cards on the Japan market, in addition to the already announced Sound Blaster Recon3D and Sound Blaster Recon3D Fatal1ty Professional.

The two new audio cards will bear the names of Sound Blaster Recon3D Professional Audio and Sound Blaster Recon3D Fatal1ty Champion Edition and will be based on the new Sound Core3D chip from Creative, announced as a quad-core audio processor some time ago.
The Fatal1ty Champion is very similar to the Fatal1ty Professional. The only difference can be seen in the inclusion of a front mounted I/O bay that seems to be identical to the one supplied with the older Sound Blaster X-Fi Titanium Fatal1ty Champion series. Apart from that the two cards appear to be identical.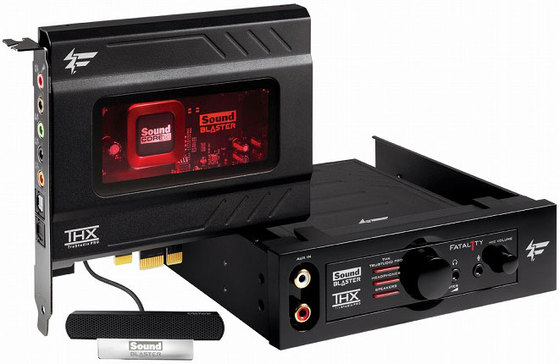 The Professional Audio version finds itself somewhere between the Sound Blaster Recon3D and the Sound Blaster Recon3D Fatal1ty Professional.  It has the same shield as the Fatal1ty cards, but this time it comes with a blue tinted window. According to Creative this audio solution is a mid-range model. The sound card also comes bundled with a 3.5mm to dual RCA cable and an optical Toslink cable as well as Creative's Media Toolbox software, something that does not come with the basic Recon3D model.
In Japan the two new Sound Blaster models will come with a beamforming microphone array which will help allow for clearer sound during things like voice calls or video conferencing.
The two new cards are expected in January 2012. Pricing is still unknown.
Source: VR-Zone.com