Now there's a smarter way to experience high quality sound in privacy and comfort while you're listening to music or watching TV.
The luxuriously styled MDR-RF4000K digital cordless headphone from Sony offers fabulous digital sound for your favourite AV entertainment. It's also designed to fit in perfectly with today's living rooms, thanks to a unique new storage and charging dock that cuts unsightly wires.
Discreetly styled to complement the modern lines of your TV, the slim, convenient storage case doubles as a cable-free battery charger. After use, just fold the ear cups flat and the MDR-RF4000K stows neatly away while the battery recharges.
Digital RF transmission ensures clear, secure signal reception over a range of up to 30m. The headphone's closed-type design cuts sound spillage, so there's no need to disturb others while you're enjoying the action packed finale of a favourite movie.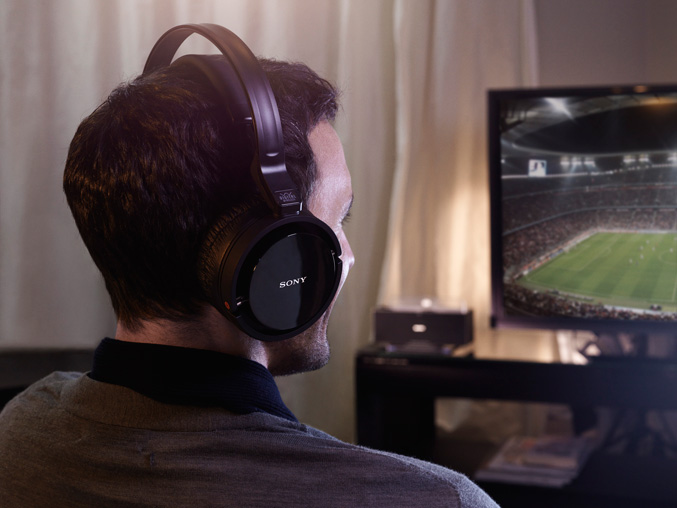 Exceptional audio quality is assured by the headphone's powerful 40mm long-stroke diaphragm. You'll be rewarded with beautifully detailed, immersive reproduction of movie soundtracks and dialogue, music and more.
The closed-type design also features swivel circum-aural cushions and a parallel-link self-adjusting headband for superb wear comfort, even for extended listening periods. Thanks to a convenient volume control on the headphone, there's no need to reach for the remote to turn sound up or down.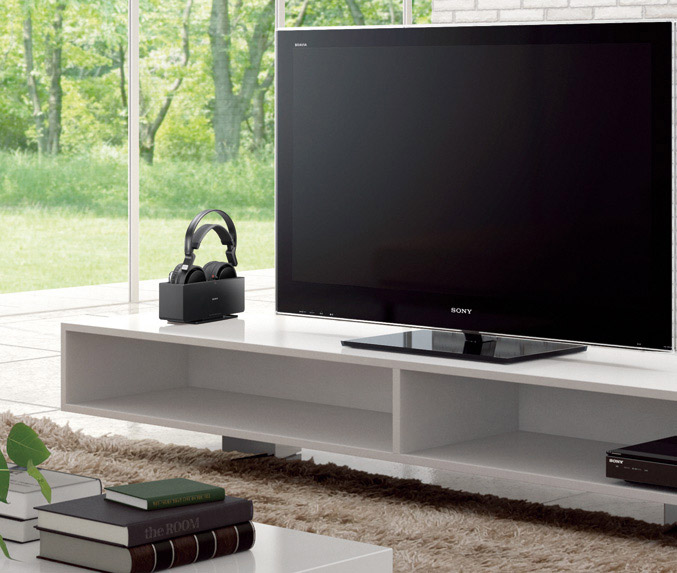 The power-efficient design allows up to 7 hours continuous listening time between charges of the NiMH battery. Alternatively, slip in a single AAA alkaline battery and enjoy up to 10 hours listening without a break. An auto power-save feature switches off the headphone when it's not being used, extending listening time still further.
Ultimate freedom: MDR-RF810RK cordless headphone
Also available this Spring, the MDR-RF810RK gives you supreme freedom to enjoy your hi-fi or TV in comfort and privacy, anywhere in your home.
Weighing just 220g (approx.), the easy-to-wear cordless headphone can receive analogue RF signals transmitted from the up to 100m away. Like the MDR‑RF4000K, it features a precision 40mm driver for uncompromised sound, plus a convenient volume control for easy level adjustment.
13 hrs listening time on a single charge of the NiMH battery is boosted even further to an incredible 28 hours uninterrupted listening on AAA alkaline battery power.
The new MDR-RF4000K and MDR-RF810RK wireless headphones are available from April 2010.
Specification:
Features

MDR-RF4000K

MDR-RF810RK

Colours

Black

Black/Silver

Availability

April 10

April 10

Versions

EU8, CEK

EU8,  CEK

Type

Closed

Closed

Freq. resp. (Hz)

12-22,000

20-20,000

Driver unit

40mm

40mm

Reception range (m)

30

100

Output power mW

10 + 10

3+3

Battery life (AAA/NiHM)

7h / 10h

28h / 13h

Charging time

16h

16h

Plug type

Connecting cord mini to phono, unimatch plug

Unimatch plug cord stereo to phono

Volume control

Built-in

Built-in

Channels

1

2

Key features

Swivel flat

Charging dock / storage case

Stylish design

Auto On/Off

Circum-aural earcups




Accessories

AC power adaptor

AC power adaptor

Weight (g)

300

220
Source: Sony