Renesas Technology America, Inc. has introduced the R2J15116FP, a compact, high-performance digital amplifier. The new IC accepts an IIS digital-audio signal input, performs processing with a built-in audio digital signal processor (DSP) unit, and then amplifies the result to deliver adaptively tuned stereo output to two speakers at up to 15 watts per channel. A key feature of the device is its space-saving 7mm x 7mm (body size) package, which fits into thinner LCD and plasma flat-panel TV sets, as well as into thinner computer monitors.

Reducing thickness while boosting audio quality
Consumer electronics manufacturers have learned that thinner flat-panel TVs gain consumers' attention and sales, so they're devoting considerable effort into finding smaller components and designing clever video system packaging. However, they understand that it makes little sense to gain a premium "thin" look if by doing so the sound the set produces becomes degraded because quality components won't fit into the enclosure. The trend to thinner profiles and narrower screen frames necessarily places considerable restrictions on speaker placement and mandates the use of smaller, thinner, less-conspicuous speakers that make it more difficult to achieve good-quality sound and sufficient audio volume and presence. Yet demand grows for better audio as buyers show preferences for larger screen sizes. Simultaneously, TV manufacturers opting to maintain continuity with the screen sizes and profiles of current models are seeking ways to obtain precise tuning of sound production to suit different environments and set designs, and also to enable product-line expansions.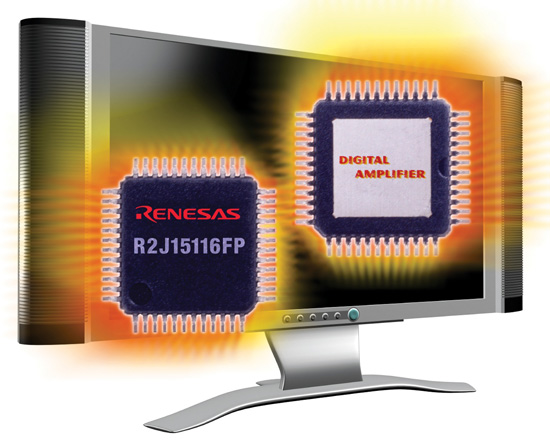 Identifying these design issues as an opportunity for new product development, Renesas has produced the single-chip R2J15116FP. This digital stereo amplifier is small in size, but big in features and performance. It outputs sufficient audio power for many applications and integrates a 24-bit audio DSP unit. The on-chip DSP function reduces the load on the TV set's main DSP unit, while providing efficient sound-quality enhancement, audio tuning, and parametric equalization, as well as stabilizing the output level against power supply voltage fluctuations. Additionally, the digital amplifier incorporates special analog-technology IP that makes possible very smooth sound-level adjustments and its 49mm mounting footprint is only about half the size of the previous two-package Renesas solution.
Allowing flat-panel TVs that are simpler and deliver reliable operation
To simplify system design and boost reliability, the new digital amplifier includes a full set of the safety functions for preventing problems that might otherwise occur in abnormal situations. Besides the standard overcurrent, overheating, and low-voltage detection and protection circuits included in past stereo amplifier devices, a new function has been added that gives advance warning of overheating. It automatically lowers the volume to reduce excessive heat generation.
Renesas plans to extend this product line by, among other things, adding digital amplifier models that vary the functions incorporated into the on-chip audio DSP unit.
Price and Availability
Product Name

Maximum

Output

Power

Control System

Package

Price /

Availability

R2J151116FP

Digital audio stereo amplifier

15W/

channel

IIS data bus

interface

IIC bus protocol

For MCU

48-pin HTQFP

(7mm x 7mm,

excluding pins)

$3.00 in 10,000

quantities / Now
Note to Editors
A specification summary of the R2J151116FP digital audio stereo amplifier is available upon request or by visiting http://america.renesas.com and accessing the press release.
About Renesas Technology Corp.
Renesas Technology Corp. is one of the world's leading semiconductor system solutions providers for mobile, automotive and PC/AV (Audio Visual) markets and the world's No.1 supplier of microcontrollers. It is also a leading provider of LCD Driver ICs, Smart Card microcontrollers, RF-ICs, High Power Amplifiers, Mixed Signal ICs, System-on-Chip (SoC), System-in-Package (SiP) and more. Established in 2003 as a joint venture between Hitachi, Ltd. (TOKYO:6501)(NYSE:HIT) and Mitsubishi Electric Corporation (TOKYO:6503), Renesas Technology achieved consolidated revenue of 951 billion JPY in FY2007 (end of March 2008). Renesas Technology is based in Tokyo, Japan and has a global network of manufacturing, design and sales operations in 17 countries with 26,800 employees worldwide. For further information, please visit http://www.renesas.com