Creative Technology Ltd. today introduced the Creative Inspire™ S2 speaker system, positioned at the top of the Creative Inspire line of speaker systems. Building on the Creative Inspire heritage of merging high performance and value,this compact yet powerful speaker system is perfect for users who want a dynamic audio system to complement their notebooks, MP3 players or desktops.
The Creative Inspire S2 speaker system successfully combines great sound and innovative technology into a snug form factor that blends nicely into small spaces. Each satellite speaker is just slightly larger than the size of a tennis ball, yet it delivers full-bodied audio uncommon in speakers of this size and class. Miniaturisation while maintaining performance is a key feature of the Creative Inspire S2 speaker system, and the highly efficient Creative DIRECT-THROW subwoofer ensures this by delivering dynamic mid-bass.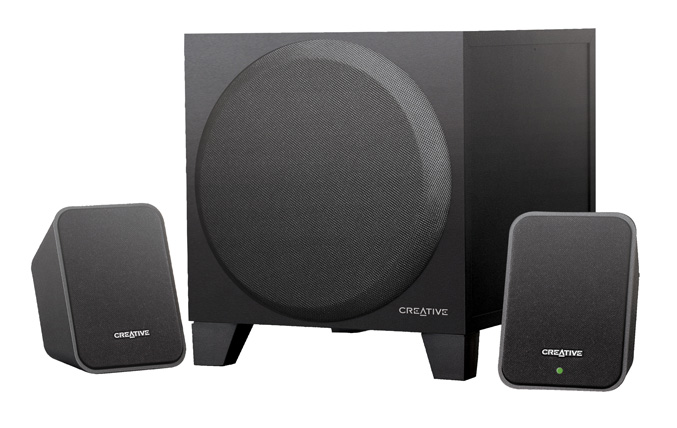 The new Creative DIRECT-THROW subwoofer was designed to permit most of the usable bass energy from the subwoofer to reach the listener in an efficient manner. By placing the subwoofer driver facing the room, one key advantage gained is that the directional mid-bass accurately reaches the listener, while the rear slotted port tube delivers the deepest non-directional bass notes to fill the room. This translates to faster delivery of music with deeper impact. Another key advantage arises when the subwoofer is placed close to wall boundaries which is common in desktop applications – the unique front driver/rear-firing port tube design utilises acoustic boundary coupling to greatly increase the bass output, allowing a much louder than expected bass from such a compact enclosure.
By employing such efficient techniques for optimal bass reproduction, the Creative Inspire S2 speaker system sets itself apart from other subwoofers of similar size and class, where generating a powerful but clean bass can be extremely challenging. A convenient control knob on the subwoofer allows the bass level to be easily adjusted to suit personal preferences or room conditions.
Built to meet the needs of users, the Creative Inspire S2 speaker system comes with dual inputs conveniently located on the satellite speaker – a Line-In input for connecting to notebooks or desktops, and a gain-adjusted AUX-In input for connecting to low-powered handheld music devices. A Headphone-Out connection caters to private listening. Combining these convenient features together with innovative audio technology and a small footprint certainly makes the Creative Inspire S2 speaker system a perfect companion for notebooks, MP3 players or desktops.
Technical Specifications of the Creative Inspire S2 Speaker System:
Speaker Power:

6 Watts RMS per channel (2 channels)
17 Watts RMS Subwoofer

Frequency Response: 40Hz ~ 20kHz
Signal-to-Noise Ratio: >75dB
Product Weight: Satellite 0.35 kg, Subwoofer 1.00 kg
Dimensions (D x W x H)

Satellite 7.4 x 7.3 x 10.3 cm
Subwoofer 23.2 x 18.0 x 20.0 cm
Pricing and Availability
The Creative Inspire S2 speaker system is currently available at the online store at creative.com/shop in Europe at the suggested retail price of €79.99.
Source: Creative