Harman International announces the availability of the JBL® Creature® III, a stylishly updated version of the popular three-piece speaker system that originally landed on desktops in 2002. An ideal gift for the music lover, the gamer or the college student, the JBL Creature III's refreshed design boasts a more streamlined, airy feel while staying true to its sci-fi roots. The Creature III subwoofer is now more compact, making it an easy addition to any desk, dorm room or small living space.
The quirky-cool JBL Creature III audio system features the legendary JBL sound quality combined with a funky, futuristic design. Available in black and white, these stylish speakers also glow from the bottom, adding another dimension of geek chic to their eccentric look. The Creature III is a "plug and play" solution that is compatible with Mac and PC platforms, portable music players and gaming consoles. The Creature III delivers a straightforward interconnect technology, which allows for minimal desktop wiring and an effortless user interface.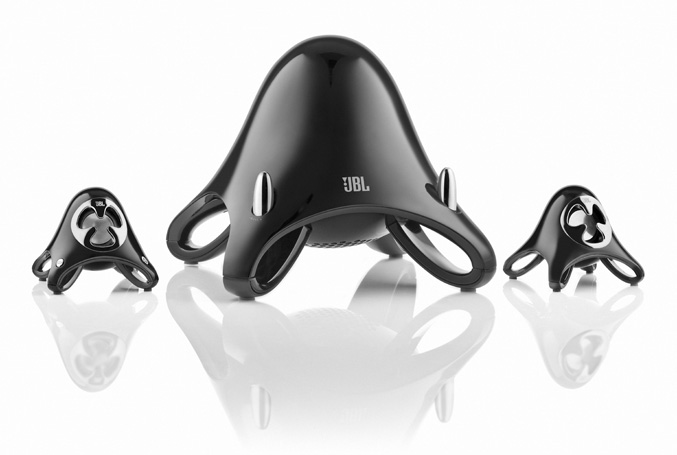 "Our inspiration for the Creature series was rooted in our weariness with static, six-sided box designs so commonly seen on desktop speaker systems," said Kurt Solland, vice president of Industrial Design for Harman International's consumer group. "The idea of a 'creature' bubbling next to your desktop with acoustic waveguides that look like face masks gives the system a distinctive personality that our consumers love."
"Creature fans enjoyed the style of the previous designs and will be excited that the Creature III is back in time for the holidays," said Christopher M. Dragon, director of Consumer and Field Marketing for Harman International. "The Creature III stays true to Harman International's longstanding reputation for unbeatable sound quality and forward-thinking designs that create the best experience in music and gaming."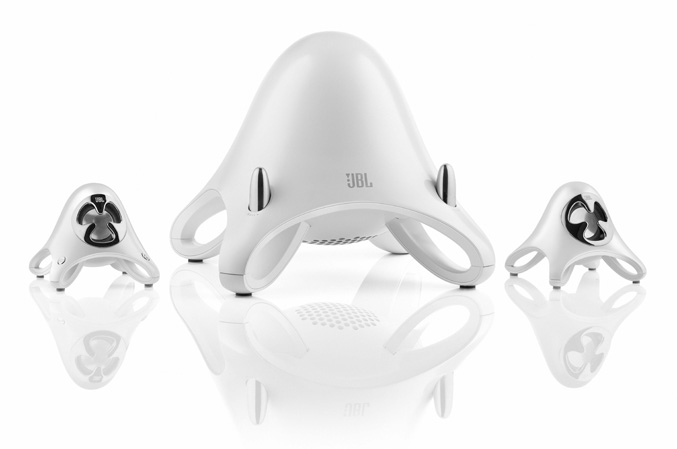 The JBL Creature III speaker system features soft-touch tactile controls, which require only a slight touch to increase/decrease volume or mute the system. The unit also has the ability to recall the volume settings in use when the system was last used.
The JBL Creature III incorporates the latest in Odyssey® transducer technology and JBL's heritage of high-quality speaker performance to produce impressive bass response and clear midrange tonality, which those seeking impressive sound can appreciate.
Pricing and Availability
The JBL Creature III is compatible with all computer platforms, along with analog stereos, game consoles, digital music players and personal CD players. The JBL Creature III has a suggested retail price of $129.99 and will be available exclusively at Apple retail stores and at www.apple.com.
Product Specifications
The JBL Creature III has the following product specifications:
Suggested retail: $129.99
Colors: Black, White
Input requirement: 1/8″ (3.5mm) stereo minijack
Drivers: 1-5/8″ (40mm) in satellites, 3″ (75mm) in subwoofer
Power: satellites – 5 watts each (10% THD+N), subwoofer – 15 watts total (10% THD+N)
Satellite dimensions: 3″ x 3″ x 2-3/4″ (75mm x 75mm x 70mm)
Subwoofer dimensions: 9″ x 9″ x 9″ (230mm x 230mm x 230mm)
Input impedance: >5k ohms
Frequency response: 50Hz – 20kHz
Input sensitivity: 400mV RMS for rated power
Source: PR-inside, JBL, Businesswire