Altec Lansing announced the latest addition to its speaker product line for personal computers, The Octane 7 VS4621 2.1 speaker system in India.
The Octane 7 VS4621 is designed for computer and laptop sound and tuned for music, movies and gaming sound with a powerful subwoofer, down-firing a three inch mid-range and dual one inch micro-drivers. CD, DVD, and MP3 Player can be also connected to the Octane 7 Speakers.
The Octane 7 VS4621 can produce sound waves down onto a hard surface, reflecting them evenly throughout the room for a well balanced sound.
Introducing the product, Rohit Agarwal, Business Manager, Altec Lansing -SAARC & Mauritius, said, "The name – Octane 7 comes from its design which has 7 drivers in all and this powerful speaker fits in the budget of customer looking for high output, good looks and affordability, it is an all in one solution."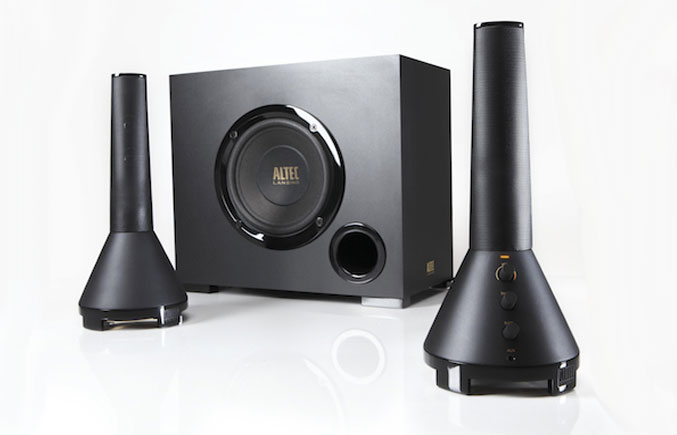 The Octane 7 VS4621 has a sharp and compact design, fitting perfectly with the consumers' lifestyle. Its powerful bass is produced by its six and a half inch Altec Lansing Custom Designed Subwoofer.
The Octane 7 also features built in controls for volume, bass and treble.
Key Features:
Crisp high end – Specially engineered micro drivers reproduce crystal-clear highs.
Exceptional sound dispersion – Down-firing midrange drivers fire sound in all directions, delivering warm, enveloping sound in a small footprint.
Thunderous bass – Formidable lows from a tough, compact 6.5″ / 165 mm woofer. Shakes the room without eating up the space.
Audio Alignment – Drivers, enclosure and electronics are balanced for optimum sound.
Innovative, compact design – Slots easily into your style
Built-in controls – Volume, bass and treble controls at your fingertips.
iPod®/MP3 Player Jack – Connect your iPod, MP3 Player or gaming console† while plugged into your computer.
The Octane 7 is available throughout all Rashi Peripherals branches all across the country at an MRP of INR 3990 or $85 with a one year warranty.