LG LED LCD TV LH95 – Slimmest LCD In The World
Now, the LG LED LCD TV LH95 is being touted as the slimmest LCD screen in the world, coming in at a impressively svelte 24.8mm thick. That's all fine and dandy but there is no mentioned as to whether the LH95 is a HDTV or not.
Granted, it would be pretty silly on the cusp of 2009 to be promoting any flat-screen television that was not HD ready but, giving LG's penchant for releasing dodgy and outright questionable phones (like the LG Ice Cream phone and LG Make-Up phone), we're hedging our bets just in case…
The LG LH95 television is all set to be revealed at CES 2009 (along with about 50 other HDTV's no doubt) and has an astounding 2,000,000:1 contrast ratio and 240Hz refresh rate, courtesy of LG's TrueMotion Drive technology. We remember the the days when 100Hz was thought to be incredible but the LG LH95 makes that look amateurish.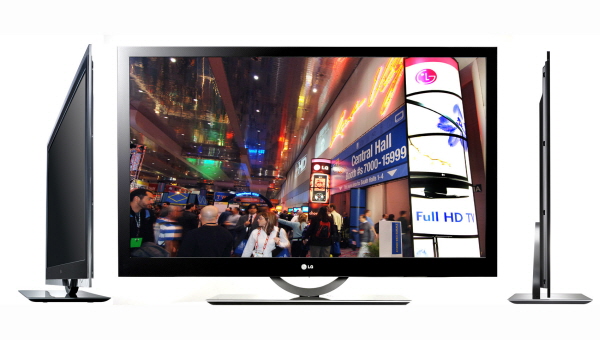 Of course, our glowing praise of the LG LH95 is based upon the condition that the set is actually HD ready. Otherwise all the afore-mentioned will count for nothing and we will literally be ROTFL at LG's cack-handedness in releasing a set without any future-proofing. We're going to give them the benefit of the doubt and take it that they just did not mention it in the press release and assumed that everyone would know the LH95 would be HD.
No wording on price or how soon after CES 2009 the LG LH95 will be available for sale.

Source: GadgetHeat