At this yer Entertainment Electronics Expo (E3), gaming peripherals manufacturer SteelSeries introduced a new audio line specifically created for Xbox 360 gamers. The first three products from the family are the Spectrum 5xb premium headset, the Spectrum 4xb entry-level headset, and the Spectrum AudioMixer, an accessory that extends Xbox 360 gameplay and communication to any headset with 3.5mm jacks.
The SteelSeries wired Spectrum 5xb premium headset features 40mm SunDancer (SCS) drivers, raretractable unidirectional microphone, which can be stored in the left earcup when not in use, , a durable double-braided nylon cord and dismantles into 3 separate parts, at the headband and at each earcup making it compact and easy to fit into a carrying case for storage and/or travel. The Spectrum 4xb offered as entry-level, wired headset for Xbox 360 gamers is a lightweight headset featuring XL-sized, cloth covered foam ear cushions that surround the outside of the ear for long session comfort. The circumaural design enhances the gaming experience through carefully adjusted sound reproduction. Similar to the Spectrum 5xb version, the Spectrum 4xb also features the signature retractable microphone and an optimized soundscape for gaming.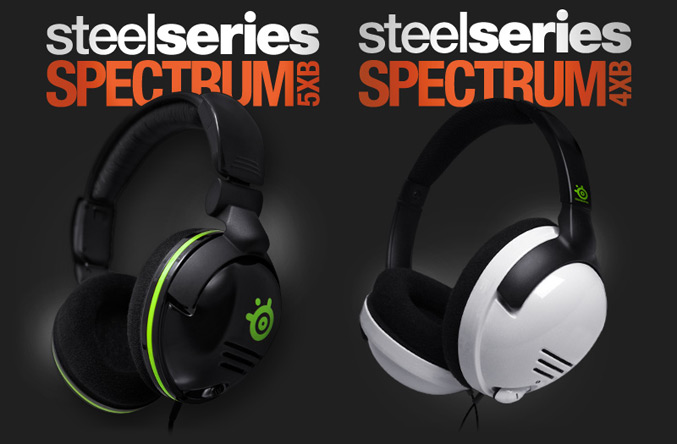 Also announced Spectrum AudioMixer, allows any headset with a microphone and 3.5mm jacks to function with Xbox 360 gameplay and Xbox LIVE chat. The mixer is also included in the box for the SteelSeries Spectrum 4xb and 5xb headsets.
"SteelSeries Spectrum 5xb and 4xb headsets present players with an advanced soundscape, providing the ability to pinpoint the directional sounds of footsteps and grenade drops without them being drowned out by deep bass sounds from explosions or in-game chat. Comprised of new features intended to enhance a gamer's audio experience, the headsets include:
Easy access to independent audio and voice controls provides players with complete and intuitive control of volume levels for in-game audio and Xbox LIVE® communication.
SteelSeries LiveMix offers players the quick-button option to improve the balance and mixing of Xbox LIVE chat and in-game audio, so that voice communication is mixed perfectly with or over the sounds of gunfire and explosions, without having to increase the volume of the headset and risk hearing damage."
"For more than a decade, SteelSeries has created peripherals to meet the needs of the most discerning PC gamers and provide a competitive advantage based on comfort, technology, and design," said Bruce Hawver, SteelSeries CEO. "With the new Spectrum line, we're leveraging what our award-winning PC headsets are known for, which are superior levels of comfort and sound quality. We've added unique features, specific to Xbox 360 gaming, in order to meet the demand for premium console headsets."
The new SteelSeries Spectrum product line will be available in Q3 2010.