SanDisk Corporation , the global leader in flash memory cards, today introduced a new line of SanDisk Extreme® Pro™ CompactFlash® memory cards, setting a new standard for fast, reliable, high-capacity memory cards designed for professional photographers. SanDisk Extreme Pro CompactFlash cards feature a new SanDisk® Power Core Controller™, an advanced memory controller that enables lightning-fast read and write speeds of up to 90MB/s1, doubling the performance from previous SanDisk high-end camera memory cards. The cards are shipping worldwide now with capacities ranging from 16 gigabytes (GB)2 to 64GB.
"The new SanDisk Extreme Pro CompactFlash line is the direct result of SanDisk's passion, commitment, and break-through engineering innovation to provide best-in-class flash memory cards for professional photography," said Eric Bone, vice president, retail product marketing, SanDisk. "The SanDisk Power Core Controller delivers unmatched write speed and reliability, providing photographers with a spectacular combination of performance, capacity and peace of mind that images are safely stored."

SanDisk develops its flash controllers and memory chips together, allowing the company to perfectly match and fine-tune the two technologies throughout the testing process, resulting in high-performance products with industry-leading endurance. The SanDisk Power Core Controller brings numerous benefits to the SanDisk Extreme Pro CompactFlash cards, including:
High-Performance: The SanDisk® Power Core™ Controller's dual-lane architecture and software algorithms double card performance, enabling the SanDisk Extreme Pro CompactFlash cards' read/write speeds of up to 90MB/s over a UDMA-6 bus.
Increased-Reliability: The SanDisk Power Core Controller's firmware algorithms and 42-bit ECC engine maintain data integrity and extended card endurance through optimized wear leveling.
Simplified Design:To further increase overall card durability, the SanDisk Power Core Controller features an integrated design that requires fewer individual components on the card's printed circuit board.
Professional-Grade Memory:
Faster read and write speeds mean more opportunities to capture the winning shot and less time spent offloading gigabytes of images afterwards. Large storage capacity enables photographers to capture RAW images and high-definition video clips in a single session without running out of space.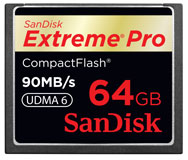 "Professional-grade memory cards play an important role in producing optimal results from Nikon's high performance Digital SLR cameras," said Mr. Sasagaki, general manager, marketing department, Nikon Corporation. "The SanDisk Extreme Pro CompactFlash card's 90MB/s read and write speeds will boost overall DSLR performance and help photographers get the most out of our cameras."
The SanDisk Extreme Pro CompactFlash cards' 16 to 64GB capacity range offers the storage space needed to allow extended shooting sessions without having to reload, while the cards' 90MB/s read/write speeds ensure that professionals can transfer their data quickly. This unique combination of speed and capacity makes the new line of cards well suited for professional usage models involving large amounts of data and tight deadlines.
"As a professional sports photographer, I rely on a speedy camera and high-performance SanDisk Extreme Pro cards to capture as many images as possible within a few seconds using continuous burst mode," says Jeff Lewis, professional photographer and member of the SanDisk Extreme Team. "How fast you can download and edit images from the cards makes a big difference when it comes to getting sports images distributed. The first images out of the media room tend to be the ones that get picked up. Speed really counts for getting selected by the top photo editors."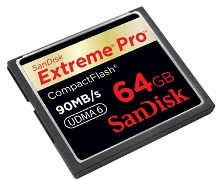 Renowned for their world-class durability, SanDisk Extreme cards guarantee operation at extended temperatures ranging from minus 13 F (minus 25 C) to 185 F (85 C). SanDisk Extreme Pro CompactFlash cards feature RTV Silicone coating for added protection against moisture and humidity. The cards can withstand accidental drops of up to nine feet, and carry a lifetime limited warranty.3
SanDisk Extreme Pro CompactFlash cards are fully compatible with any camera, card reader or other device that supports CompactFlash cards4. The SanDisk Extreme Pro ExpressCard™ Adapter is optimized to take advantage of the SanDisk Extreme Pro CompactFlash card's up to 90MB/s read speed. The reader carries an MSRP of $49.99 and will be available in late October on SanDisk.com and at select retailers.
Pricing and Availability
SanDisk is also introducing new SanDisk Extreme CompactFlash cards at increased performance of previous SanDisk Extreme III CompactFlash cards. The new SanDisk Extreme and SanDisk Extreme Pro cards represent the step beyond SanDisk Extreme III and SanDisk Extreme IV cards, respectively.
SanDisk Extreme CompactFlash cards will be available in capacities of 8GB to 32GB and MSRP ranging from about $130 to $375, while SanDisk Extreme Pro CompactFlash cards will be available in capacities of 16GB to 64GB and MSRP ranging from about $300 to $800. Exact pricing for the cards will be set by retailers.
| | | |
| --- | --- | --- |
| CompactFlash Card Line | Performance | Available Capacity |
| SanDisk Extreme | 60MB/s read/write speed (400x) | 8GB, 16GB, 32GB |
| SanDisk Extreme Pro | 90MB/s read/write speed (600x) | 16GB, 32GB, 64GB |
Source: SanDisk