SANYO Electric Co., Ltd.  is pleased to announce the release of a new Dual Camera Xacti, DMX-CG110, at the end of February, 2010. The new compact model based on the Dual Camera concept can capture both Full HD videos and high-definition still photos.
Instead of coming out with devices that are only used to record important events, the Xacti series aims to provide customers with more enjoyable video experiences, by offering cameras that users can conveniently carry everywhere to easily capture both photos and videos in daily life. By utilizing a convenient video format that can be easily handled on PC and Internet environments, and even on home TVs, Xacti cameras are more than just hardware for capturing, viewing, and saving images. They are convenient products for sharing videos online, and on multi-media sites. As a result, Xacti cameras have been very well received by the market.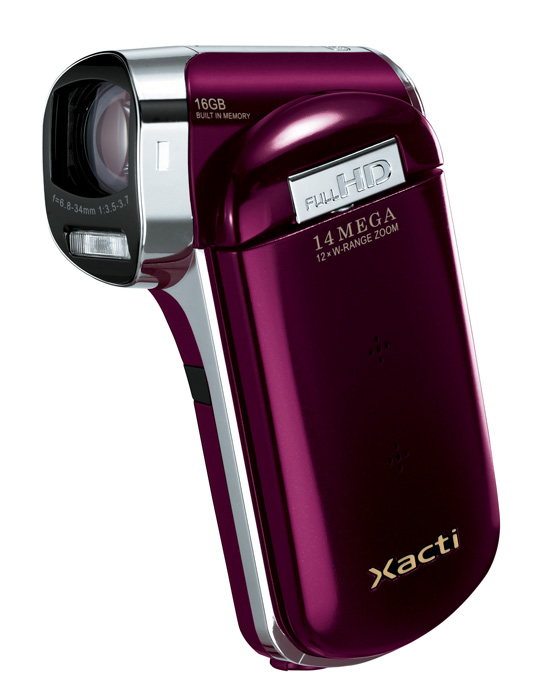 Now SANYO is releasing a new compact Xacti model that can be used to easily capture Full HD videos, as well as good quality photos. It is ideal for beautifully capturing not only special events, but also scenes from daily life, just as easily as taking a snapshot.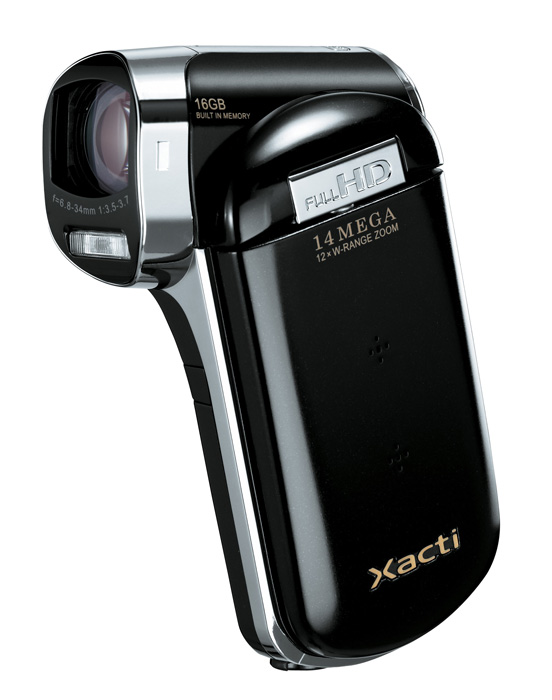 Main Features
1. Offering both Full HD video and high-definition 14 mega-pixel photos
Despite its compact size, the DMX-CG110 can capture both 1920 x 1080 pixel Full HD videos and 14 mega-pixel high-definition photos. In order to realize this combination of compact size and high resolution, SANYO developed a new high-speed image-processing engine. Along with optimizing performance with SANYO's CMOS image sensor, the image processing algorithm architecture was revised, the signal processing system for functions like noise reduction was optimized, and power consumption efficiency was improved.
The video format used for this model is "MPEG-4 AVC / H.264," which is easy to use on PC and Internet environments, as it is a single file format, similar to the one used for still photos. "MPEG-4 AVC / H.264" is also fully supported by the latest Windows® OS, "Windows 7"*3, which was launched last year, further expanding the usage environment. Consequently, video files are displayed in the same thumbnail format as still picture files, and they can also be played back directly with Windows Media Player, are editable with Windows Live Movie Maker*4, and are Device Stage compatible. This makes the files even more convenient for use on computers.
2. Easy to zoom-in on distant subjects with newly developed 12x "Double-Range Zoom" function
The DMX-GG110 has a newly developed 12x "Double-Range Zoom" function that can be used when capturing video. This feature enables a wider range of video capture by allowing users to switch between different zoom ranges with the touch of a button, just like alternating between two lenses with different zoom ratios. When converted to a 35-mm film basis, this equals a capture range from wide-angle 40 mm up to a 12x zoom of 480 mm, enabling users to easily zoom in on distant subjects.
3. Compact and stylish design that is ready to be used anytime
Unlike regular video cameras that are mostly used for filming special events, the Xacti series has been developed to offer compact cameras that are easy to carry all the time, based on the concept of a device to effortlessly capture the moments of daily life. The DMX-GG110 was designed with importance placed on a comfortable rounded grip form, based on a unique new ergonomic design that offers both compact size and ease of use.
4. Other Features
Compatible with the "Xacti Library" that allows saving/indexing and playback of videos and pictures from an external hard drive (sold separately).
– 16GB Internal Memory
"Digital Image Stabilizer"*6 and "Face Chaser Function"*7 for videos
"The new Digital Image Stabilizer,"*6 "Face Chaser Function"*7 and "Target a Color Function" *8 for photos
High-speed Reverse Sequential Shooting
"Eye-Fi card compatibility"*9 enables automatic uploading of images to a computer.
Compatible with large capacity recording media, SDXC memory card.
Source: Sanyo