BenQ has announced the launch of a new portable point-and-shoot camera called LT100 and targeted for female consumers. It is equipped with 14-megapixel sensor, a 26mm wide-angle lens with 5x optical zoom and a 3-inch LCD touchscreen on the back with intuitive user interface that allows ladies to focus and capture images by simply tapping on the object or by circling on a specific part of the image to get a swift automatic zoom.
BenQ's LT100 portable camera comes in red metal casing, offers a high sensitivity of up to ISO6400,  Speedy Burst function that captures thirty frames a second at 640×480 resolution, with automatic focus and a wide range of image enhancement features and modes like Panorama, Color Accent, LOMO, Fisheye and My Drawings modes and more.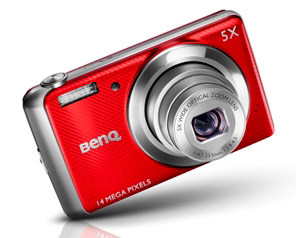 BenQ's new camera LT100 will be available worldwide this month.
Source: BenQ