ViewSonic has demonstrated a prototype of a 31.5-inch LED monitor that boasts great visual quality and an astounding 8 MP (3840 x 2160) pixel resolution. As a comparison this is four times higher that any contemporary Full HD TV set.
The monitor is obviously targeted at professionals, visual quality fanatics and other users who need large screen space for their work. Known as ViewSonic VP3280-LED the monitor features 30 000:1 of dynamic contrast, 8 ms response time and a density of 150 pixels per inch. The monitor also has two USB ports, two DVI ports, one HDMI port and two DisplayPort outputs.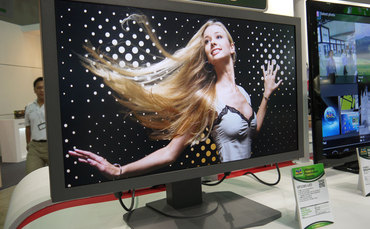 Pricing and availability are unknown but surely the price's going to be very high.
Source: Computeractive.co.uk