Pentax launches limited quantity of 1,000 sets of their K-7 digital SLR camera. This Limited Silver edition model comes with same 14.6 Megapixel CMOS image sensor and several enhancements like, a silver-colored body and a "golden section ratio" focusing screen.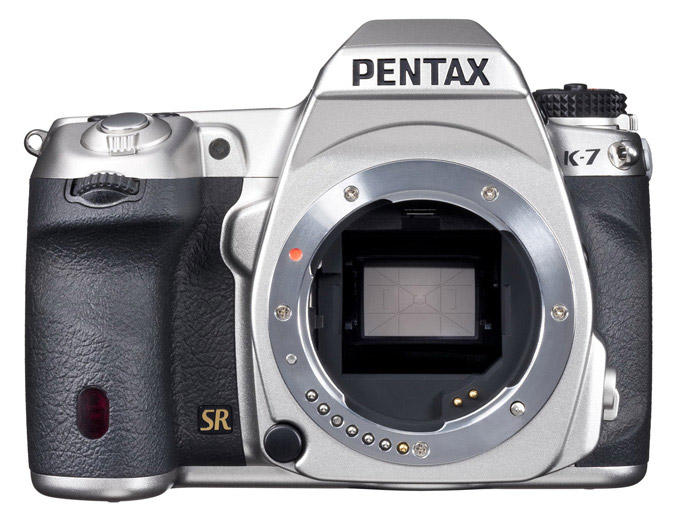 Look below for the rest features:
1. In response to the enthusiastic requests from many devoted PENTAX lovers, the camera body is finished in silver. It is identical with the color of the high-performance FA Limited interchangeable lens series, a family of lenses designed for the highest level of image description. Because of this, the K-7 Limited Silver is the perfect stylistic match for any FA Limited-series lens. Set in lower area of the camera body, the SR (Shake Reduction) lettering is in a special gold color that stands out proudly against the subdued black-colored, leather-like finish.
2. The K-7 Limited Silver comes equipped with an exclusive "golden section ratio" focusing screen. Since the guiding lines and points are curved on the screen, the photographer can swiftly and effortlessly compose a perfectly balanced image in keeping with this classic design concept.
3. The LCD monitor on the camera's back panel is protected with a reinforced glass plate, which is highly shock- and scratch-resistant. This protective plate makes the K-7 Limited Silver even more durable and dependable than the original K-7, especially under demanding shooting conditions. Thanks to this extra protection, the photographer can concentrate on picture-taking in challenging outdoor assignments.
4. The camera firmware has been upgraded to the latest version (Ver. 1.03) to make the camera's lens compensation function operable with the FA Limited-series lenses.
5. The latest version (Ver. 4.10) of the PENTAX Digital Camera Utility 4 image processing software is included in the camera package.
Source: Pentax