Sony Alpha A290 and A390 14.2 megapixels digital SLR cameras offical

Sony today adds to new budget-friendly entry-level cameras – the DSLR-A290 (α290) and DSLR-A390 (α390). Both cameras feature a new grip design for more comfortable handling and upper control areas have also been revised with a new button layout.
The new DSLR cameras offer 14.2MP CCD sensors, 2.7-inch TFT LCD, a max ISO of 3200, 9-point autofocus system,  USB 2.0 and HDMI  mini ports and BRAVIA Sync, allows control of slideshow and other camera playback functions in comfort using your TV remote. The α390 adds the extra benefit of Quick AF Live View. This unique system teams the convenience of live image preview on the tilt-angle Clear Photo LCD with speedy, accurate phase-detection autofocus. Both cameras will be available this summer with price tags around 500$ and 600$.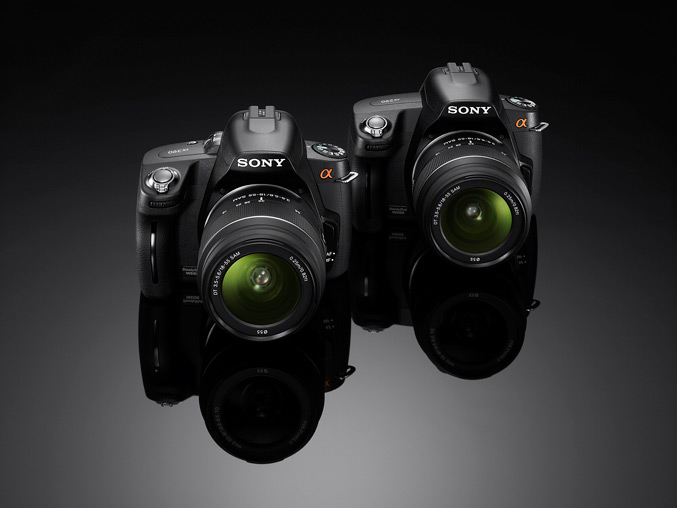 Specification:
Key features

DSLR-A390 (α390)

DSLR-A290 (α290)

Type

Digital SLR camera with built-in flash and interchangeable lenses

Digital SLR camera with built-in flash and interchangeable lenses

Lens compatibility

Sony A-mount lens, Minolta and Konica Minolta AF lens

Sony A-mount lens, Minolta and Konica Minolta AF lens

Image sensor

14.2 effective megapixels

14.2 effective megapixels

Recording

Memory Stick PRO Duo/Memory Stick PRO-HG Duo/Memory Stick PRO-HG Duo HX

SD memory card/SDHC memory card

Memory Stick PRO Duo/Memory Stick PRO-HG Duo/Memory Stick PRO-HG Duo HX

SD memory card/SDHC memory card

White balance

Auto, Daylight, Shade, Cloudy, Tungsten, Fluorescent, Flash, Custom

Auto, Daylight, Shade, Cloudy, Tungsten, Fluorescent, Flash, Custom

Autofocus system

TTL phase detection system; CCD line sensors (Centre-cross 9 points)

TTL phase detection system; CCD line sensors (Centre-cross 9 points)

Auto Exposure system

40-segment honeycomb-pattern SPC

40-segment honeycomb-pattern SPC

Viewfinder

Fixed eye-level, penta-Dach-mirror

Fixed eye-level, penta-Dach-mirror

LCD monitor

6.7cm (2.7-inch) TFT (Clear Photo LCD)

6.7cm (2.7-inch) TFT (Clear Photo LCD)

Line view

Quick AF Live View (Pentamirror tilt system)

No

Shutter

Electronically-controlled, vertical-traverse, focal-plane type

Electronically-controlled, vertical-traverse, focal-plane type

SteadyShot

Image-sensor shift mechanism

Image-sensor shift mechanism

Built-in flash

Auto pop-up – GN 10 at ISO 100 coverage up to 18mm

Auto pop-up – GN 10 at ISO 100 coverage up to 18mm

Drive

Single, Continuous, Self-timer (10/2 sec. delay selectable), Self-timer (Cont.), Remote Commander

Single, Continuous, Self-timer (10/2 sec. delay selectable), Self-timer (Cont.), Remote Commander

Interface

USB2.0 Hi-speed (mass-storage, PTP), HDMI  mini connector (Type C)

USB2.0 Hi-speed (mass-storage, PTP), HDMI  mini connector (Type C)

Print

Exif Print, Print Image Matching III, PictBridge

Exif Print, Print Image Matching III, PictBridge

Power

Approx. 500 images with viewfinder, approx. 230 images in live view mode (CIPA standard)

Approx. 500 images with viewfinder (CIPA standard)

Weight

549g (including battery and Memory Stick Pro Duo)

508g (including battery and Memory Stick Pro Duo)

Dimensions

Approx. 128.1 x 97.1 x 83.5mm (W/H/D, excluding protrusions)

Approx. 128.1 x 97.1 x 79.6mm (W/H/D, excluding protrusions)

Operating temperature

32 – 104 degrees F (0 – 40 degrees C)

32 – 104 degrees F (0 – 40 degrees C)