Sony has rolled out the Alpha NEX-F3 compact system camera and the novelty comes into this world with two main tasks – to replace the earlier NEX-C3 model and build on its features. Can the NEX-F3 do all this? Let's find out.
The new Sony NEX-F3 targets users who want to replace their classic point-and-shoot camera with something better that has improved image quality and of course performance. Don't expect something revolutionary though – the NEX-F3 has a lot in common with the earlier NEX-C3 model. Featuring 16.1-megapixel resolution, the NEX-F3 can capture 1080p video at 60i or 24p and take pictures thanks to the Exmor APS-C HD CMOS sensor.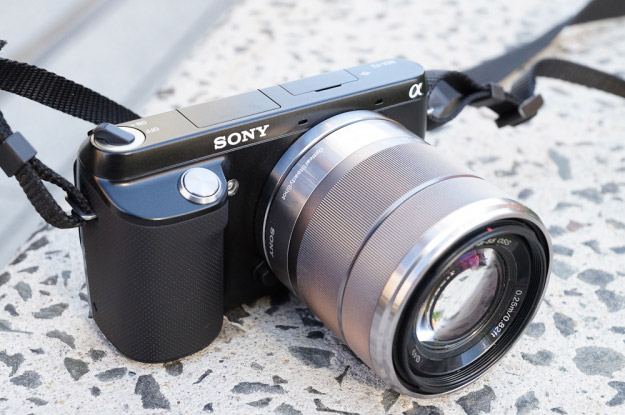 This is where the similarities with the NEX-C3 end. The NEX-F3 successfully upgrades the features of the older model with a few but important improvements. For one thing the NEX-F3 features a newly-designed tilt mechanism for the LCD which allows viewing from in front of the camera, and adds a built-in popup flash similar to that of the NEX-7, plus Full HD video capture (albeit not matching the frame rate of the NEX-7 and 5N in progressive scan mode). The F3 also offers a higher ISO sensitivity range of 200 to 16 000 equivalents, increases burst depth, and adds a variety of functions seen recently on the SLT-A57- these include the Clear-Image Zoom and Auto Portrait Framing functions, both based around Sony's By Pixel Super Resolution technology. A nice addition is the automated portrait-mode self-timer – all you need to do to activate it is just raise the LCD display.
The NEX-F3 camera also comes with a more powerful battery (by 20 per cent compared to the NEX-C3). And finally to complement the NEX-F3 arrival Sony releases the 18-200mm F/3.5-6.3 OSS LE telezoom lens – smaller and lighter than the older 18-200.
The new Sony NEX-F3 will start shipping in June 2012 in white, silver and black colors and the camera kit also includes an 18-55 mm lens but final pricing is unknown. As to the new 18-200 mm lens – expect it in July of this year for approximately 850 USD.
Source: Gadgetshift.com