Buffalo Technology, a global leader in the design, development and manufacturing of storage and wireless networking solutions, launches the TeraStation ES, its latest high performance Network Attached Storage (NAS) device for small businesses.
The TeraStation ES is a cost effective business NAS solution available in 2TB, 4TB, 6TB and 8TB capacities. With robust RAID 5 capability, high speed transfer rates of up to 62MB/s and the redundancy of four separate hard drives, critical business data can be managed, stored and backed up quickly, efficiently and safely.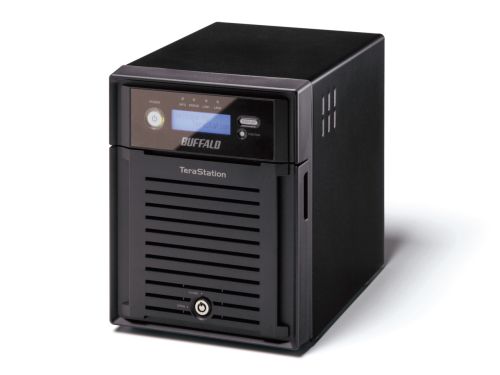 Paul Hudson, Northern European Sales Director, Buffalo Technology, said: "For any small business it is vital that digital information is managed, stored and backed up efficiently and safely, whilst still providing the appropriate levels of access to its users. Not only is the TeraStation ES easy to deploy and easy to manage, but it offers its users the peace of mind that their critical data is safe without the need for costly external IT support."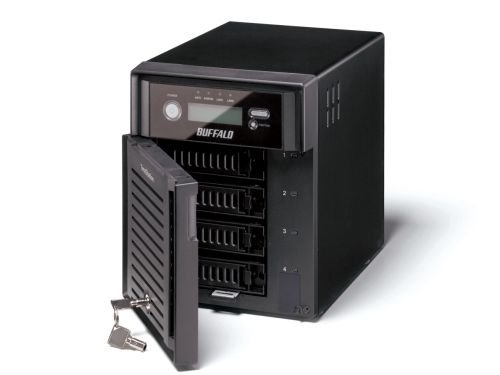 The perfect solution for the home office or small business, the TeraStation ES features Hot Swap and Hot Spare functionality – meaning that if a hard drive were to fail then the user would be able to safely remove and replace it without losing any data or suffering any downtime. The replication function also improves reliability, fault tolerance and accessibility through enabling the connection of a second TeraStation via the LAN port.
Hudson continued: "With an affordable and attractive price tag and a fantastic array of features, we are confident that the new TeraStation ES is the perfect data management solution for any small business."
Key features
The Buffalo TeraStation ES' key features include:
Fully populated device, with 4 bays and 4 drives
High-Speed – Up to 62MB/s high-speed data transfer rate
Supports RAID level, 0, 1, 5, 10 and Standard
Active Directory Support – Simplify the management of each TeraStation
Reliable – Real Time Backup Replication function allows for reliability with fast recovery from hard drive failures
Resilient – Replace faulty hard drives with the Hot Swap functionality without interruption of work
Hot-Spare feature switches failed drive to a spare drive automatically to support redundancy
Dual connectivity for port trunking
Back-up data held on attached USB hard drives or other Buffalo NAS via the USB and LAN ports
Logging access function
Quota Management – prevent misuse of disk space by allocating the right amount of space by user
Supports NFS – can be mapped from UNIX so that a wide range of users can access the drives
Supports Apple Time Machine – Back-up multiple Mac computers
Schedule Power Management System – For flexible power management, save up to 66%, reduce CO2 omissions. Automatically turns on and shuts down with PC
PC Interlocking Power Management System – For effortless power saving
WebAccess – Allows you to store, share and access files from any web browser via PC, Mac or iPhone
In-Built DLNA CERTIFIED™ media server – For easy playback of multi-media files to any DLNA certified device
In-Built BitTorrent™ Client
Seamlessly integrates with iTunes® and allows you to access your music files on the TeraStation from your iTunes software
Supports UPS connectivity via USB port
In-Built print server to print documents from anywhere on your network
LCD Status Display and intuitive web interface
Two 10/100/1000 Gigabit Ethernet ports
Two USB ports
Supported OS: Windows Server 2003/2008, Windows® Vista™, Windows® XP, Windows® 7 (32/64 bit), Windows® 2000 (32bit), Windows Media Center 2004/2005, Mac OSX 10.3.9 or higher
3 Years Warranty
Available with 2TB, 4TB, 6TB or 8TB capacities
Pricing and availability
The Buffalo TeraStation ES will be available from Insight, Misco and other leading resellers from mid January, 2010.
Buffalo TeraStation ES 2TB (TS-XE2.0TL/R5EU) – SRP £529.99 Inc. VAT
Buffalo TeraStation ES 4TB (TS-XE4.0TL/R5EU) – SRP £699.99 Inc. VAT
Buffalo TeraStation ES 6TB (TS-XE6.0TL/R5EU) – SRP 959.99 Inc. VAT
Buffalo TeraStation ES 8TB (TS-XE8.0TL/R5EU) – SRP £1,219.99 Inc. VAT
Source: Buffalo