Sony's popular Cyber-shot W-Series gains a fresh new look for '08 with five stylish new cameras that team fantastic HD image quality with easy-to-use features.
Available in a choice of up-to-the-minute colour options, the new Cyber-shot W-Series stands out with its clean lines and cool, contemporary looks. Inside the sleek all-aluminium case, all five models are packed with the latest Sony technology to widen your creative options and guarantee even more fabulous memories.
The range is topped by the 10.1 megapixel Cyber-shot W170 that sports an extra-large, bright 2.7-inch Clear Photo LCD that offers outstanding resolution (230k dot) and contrast, even when you're shooting in daylight outdoors. There's also a top-quality Carl Zeiss wide angle lens with 5x optical zoom. Thanks to its minimum focal length of 28mm (35mm equivalent), zooming out to wide angle lets you squeeze in more of landscapes and group photos without cropping the subject.
In a Cyber-shot first, the W170 now features Intelligent Scene Recognition that takes the guesswork out of selecting the right camera settings in a range of common shooting situations. In Advanced mode, the camera takes two shots – one with standard automatic settings and the other with optimised settings – allowing you to pick your favourite. Other key W170 features include Smile Shutter, Face Detection and Super Steady Shot optical image stabilisation for clearer low-light shooting.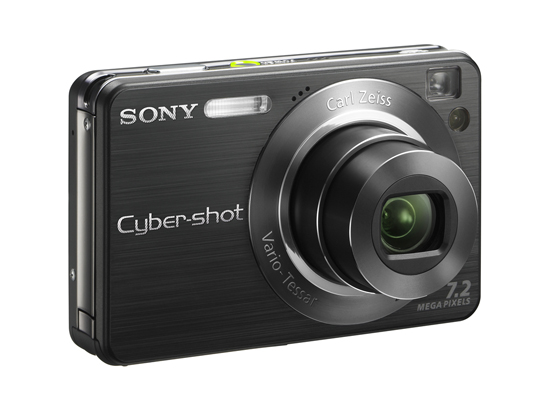 With a resolution of 8.1 effective megapixels, the premium W150 shares the same large, bright 2.7-inch Clear Photo LCD plus as the flagship W170. It also features a powerful 5x zoom Carl Zeiss wide angle lens, plus Smile Shutter, Face Detection, Super Steady Shot and Intelligent Scene Recognition.
The W130 also boasts 8.1 effective megapixel resolution, plus Smile Shutter, Face Detection, Super SteadyShot and a 4x Carl Zeiss optical zoom lens. The W120 shares similar specifications to the W130 but with a resolution of 7.2 effective megapixels.
The entry-level W110 offers 7.2 effective megapixel resolution plus 4x optical zoom, Smile Shutter and Face Detection.
Cyber-shot W-Series key features
The Sony-developed BIONZ image processor inside all new W-Series models powers improved Face Detection technology, now with even faster tracking plus the ability to recognise faces that are further from the camera. In addition, Face Detection can now distinguish automatically between children and adults, adjusting exposure, skin tone and red-eye reduction for great portraits with any subject.
Another Sony first, Smile Shutter waits until the subject smiles before firing the shutter to ensure happy faces in every frame. A new Smile Level setting lets you fine-tune the threshold before a picture's taken, from a gentle smile to a huge grin.
Also powered by the BIONZ processor, the D-Range Optimiser automatically adjusts exposure and contrast for natural-looking results. It's highly effective with strongly backlit scenes where there's a risk of losing high- and low-light detail.
Sensitivity on all models is boosted to a maximum ISO 3200 for successful low-noise shots without flash indoors or in dim lighting conditions. It's teamed with Super SteadyShot optical image stabilisation, delivering a powerful Anti-Blur solution for clearer handheld pictures in low light or at higher zoom settings.
An HD Output on all models lets you enjoy your memories in super-size on your BRAVIA TV or any HD Ready display. Connecting to any PhotoTV HD compatible television or display (via optional output adaptor cable) delivers even more incredible Full HD picture quality with extraordinary detail and realism.
Despite superb image quality and advanced shooting functions, the W?Series is brilliantly simple to use. First-time users will appreciate the friendly on-screen function guide and Easy Shooting mode that keeps things simple without compromising picture quality. There's also an optical viewfinder on all models that offers extra familiarity for compact camera users switching to digital.