The manufacturer that builds digital cameras to go boldly where none have gone before has announced the PENTAX Optio W80. More adventure-proof than ever, this latest PENTAX digital camera is waterproof, dustproof, coldproof, and now shockproof enough to withstand impact from a fall of more than three feet (one meter).
PENTAX first introduced dunkable digital cameras in 2003 to the delight of outdoor enthusiasts, travelers and families everywhere. Today, the PENTAX Optio W80's waterproof design withstands depths of up to 16 feet (5 meters) to protect from rain and spills, as well as allowing full underwater photos and video for up to two hours. On dry land, the rugged, shockproof design protects against drops of up to 3.3 feet to protect the camera from hard use and occasional spills. Also featuring 12.1 megapixels, a 5X internal optical zoom (equivalent to 28-140mm), a slim one inch body, and a wide angle 28mm lens, the Optio W80 offers an expanded perspective that is ideal for landscape, group and more confined shots. With a PENTAX-developed imaging engine and a high-performance PENTAX zoom lens, the Optio W80 delivers brilliant, high-quality images with well-defined details. A Super Protect (SP) coating applied to the mineral crystal cover of the internal zoom lens helps repel water, grime and finger marks.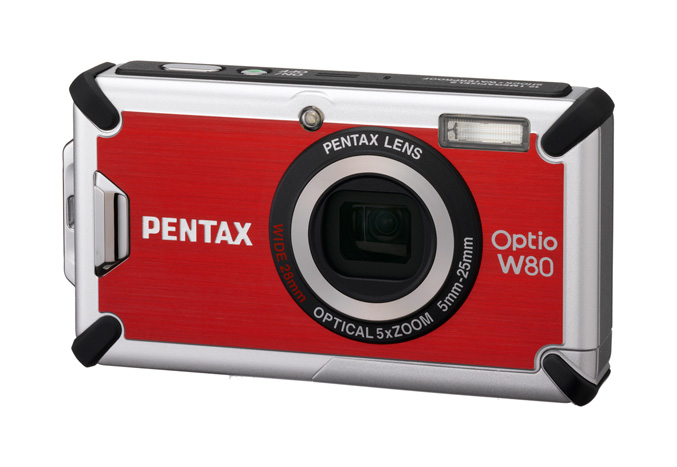 Other important features in the Optio W80 include a:
Coldproof design that allows the camera to be used in sub-freezing temperatures of 14 degrees Fahrenheit (-10 degrees Celsius), ideal for cold weather activities such as skiing and snowmobiling.
2.5 inch LCD monitor that features anti-reflective coating, making it easy to view, even in bright sunlight.
Widescreen, HD movie capture that records resolutions up to 1280×720 pixels at full-speed 30 frames per second.
Fast Face Detection technology that sees up to 32 faces in 0.03 seconds, with Smile Capture and Blink Detection, for perfect portrait shots.
Pixel Track Shake Reduction (SR) that ensures sharp images in any lighting condition, without adding high ISO noise. Digital SR and Movie SR are also available.
Close focusing, Super Macro mode that brings out the details in even the smallest subjects as close as 1 cm (less than one inch).
Available in Cardinal Red, Azure Blue and Gunmetal Gray, the Optio W80 will be available in July 2009 for $299.95 USD. To help keep the Optio W80 fresh and at hand, PENTAX offers a custom designed clear protective skin ($16.95 USD) and a comfortable floating wrist strap ($19.95 USD). More information about the Optio W80 and these accessories is available at: www.pentaximaging.com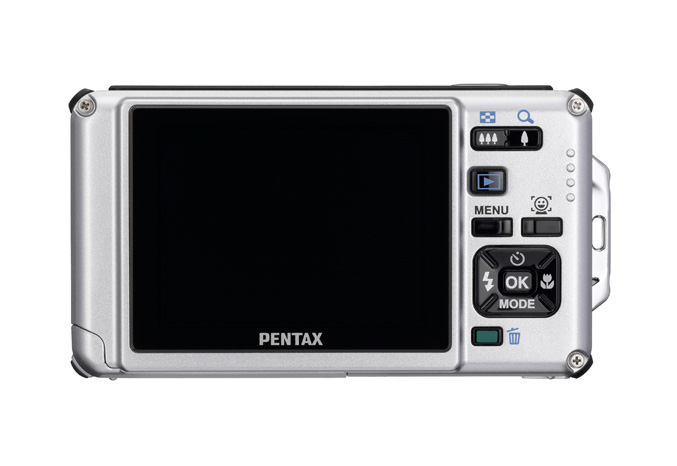 OPTIO W80 FACT SHEET
Enhanced rugged performance
With the most water and airtight external joints ever, PENTAX has improved the Optio W80's underwater performance to more than 16 feet for up to two hours of continuous operation.  Along with this outstanding JIS Class 8 waterproof rating, the Optio W80 provides JIS Class 6 dustproof and coldproof performance for reliable operation at temperatures as low as 14 degrees F (–10 degrees C).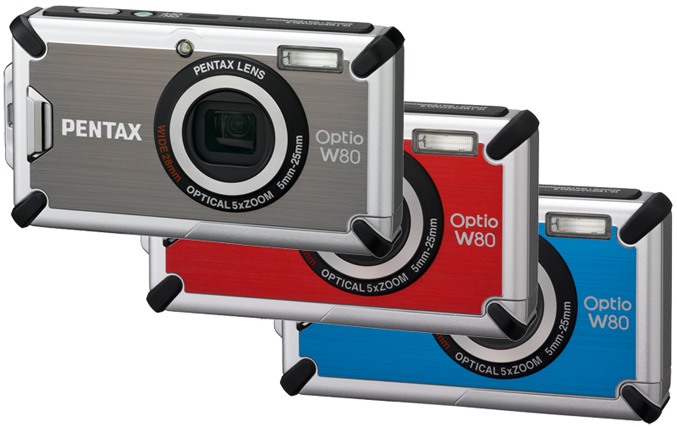 New shockproof performance
With shock-absorbent material positioned throughout the Optio W80's rigid and durable interior design, the Optio W80 will withstand impact from a fall from a height of more than three feet (one meter)* without damage to the body for reliability even in harsh shooting conditions.
* Measured under PENTAX-original testing standards (from a height of one meter, onto a surface of 5cm-thick plywood), conforming to MIL-STD 810F Method 516.5-Shock.

Optical 5X zoom lens for excellent zoom coverage from wide angle to telephoto
The Optio W80 features an optical 5X zoom lens covering focal lengths from 28mm wide angle to 140mm telephoto.  With this wide zoom range, the Optio W80 may be used for a variety of challenging subjects and scenes including landscapes, architecture, large group shots and tight snapshots from a distance. For a tighter zoom on subjects, an Intelligent Zoom function extends the zoom range to approximately 31.3X.
High-quality HD-Widescreen movie recording
The Optio W80 captures beautiful, flawless, high-definition movie clips at 16:9 TV proportions (1280 x 720 pixels)* at a frame rate of 30 frames per second. The camera also is equipped with advanced features designed to facilitate high quality movie recording:
Movie SR (Shake Reduction) mode automatically compensates camera shake during movie shooting

Underwater Movie mode automatically optimizes color for underwater movie shooting.
*When the Optio W80's AV output terminal is used, movie clips are output as NTSC/PAL data. If the user wishes to play back movie clips at high-definition-TV proportions (1280 x 720 pixels), the data must be transferred to a personal computer for playback.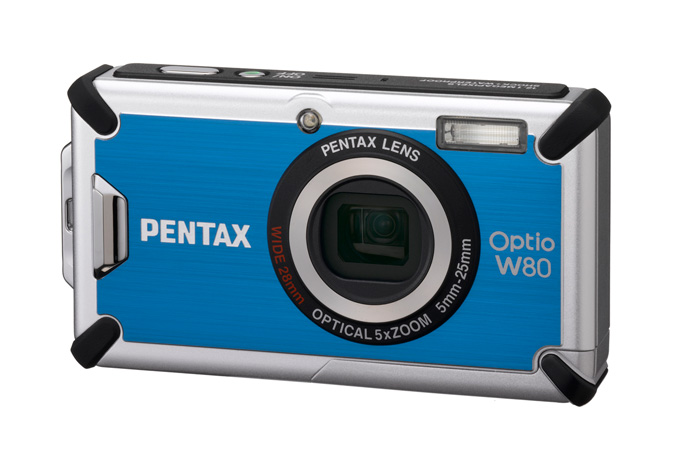 Triple anti-shake protection
Pixel Track SR mode
When recording still images, the Optio W80's Pixel Track SR (Shake Reduction) mode effectively compensates for camera shake by processing the amount of image blur with a dedicated ASIC.  Pixel Track SR tracks motion blur at the pixel level and calculates blur volume in real time. After exposure, the recovery filter centers the motion effect around each pixel to compartmentalize the blur.  Then, an adjustment filter sharpens the pixels to help remove the blur effect. Pixel Track SR results in sharp images without adding high ISO noise.
High-Sensitivity SR mode*
The Optio W80 automatically raises the sensitivity setting to as high as ISO 6400 when it detects low-lighting conditions in still-image shooting so that a higher shutter speed may be used. This effectively minimizes adverse effects of camera shake and subject blur under poor lighting conditions.
* When the High-Sensitivity SR mode is selected, the recorded size is fixed to 5M (2592 x 1944 pixels).
Movie SR mode*
During movie recording, the Optio W80 prevents blurry images by effectively minimizing annoying camera shake.
* When the Movie SR mode is selected, the angle of view becomes narrower than normal shooting.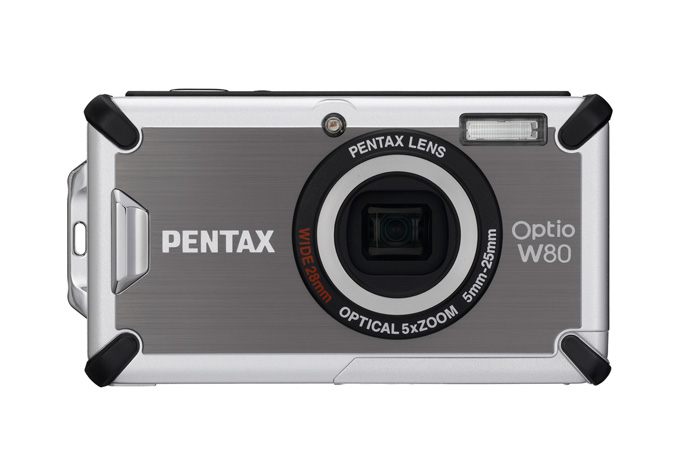 Auto Picture mode for automatic selection of eight different shooting modes
The Optio W80 features the PENTAX-original Auto Picture mode, which automatically selects the most appropriate shooting mode for a given subject or scene by detecting the subject's lighting and other conditions. This user-friendly feature chooses the best mode choice for the photographer (from Landscape, Portrait, Night Scene, Night Scene Portrait, Flower, Sport, Standard and Candlelight modes).
Automatic Face Detection of up to 32 faces in a mere 0.03 seconds
The Optio W80 features the advanced Face Detection AF & AE function for more accurate people shots.  This function automatically detects up to 32 faces in the image field, and then optimizes focus and exposure settings in about 0.03 seconds. The Optio W80 is also equipped with the Smile Capture mode, which automatically releases the shutter the moment the camera detects the subject's smile and a Blink Detection function, which warns the photographer if a subject's eyes close at the time of shutter release.
Large LCD monitor for effortless outdoor viewing
The Optio W80 features a large 2.5 inch high-brightness color LCD monitor with approximately 230,000 dots. This monitor is treated with a special AR (Anti-Reflection) coating to cut the glare of external light and minimize annoying reflections, making it easy to view recorded images even in bright sunlight.
Additional features
An Auto Macro mode records dramatic close-up images of a subject from close as one centimeter.

A Digital Wide function to compose extra-wide-angle images (equivalent to an image taken with an approx. 21mm lens in 35mm format) from two images.

An AF-assisting spot beam projector (ON/OFF switchable) assists auto focusing operation in the dark.

A new D-Range setting to prevent overexposed (washed-out) and underexposed (blacked-out) areas in an image.

A decorative frame composite function to shoot or compose images with 90 photo frame selections stored in the camera.

20 digital filters, including Toy Camera and Retro, add distinctive visual effects to recorded images.

ACDSee for PENTAX 3.0 image viewing, editing and filing software included (compatible with Windows VistaTM).

Source: Pentax