Transcend Information, Inc. (Transcend®), a worldwide leader in storage and multimedia products,  revealed a new full-featured Digital Photo Frame, the PF700. This attractive 7-inch photo frame features an extra-bright 16:9 aspect ratio screen that vividly displays photos anywhere it is placed, making it easier than ever to showcase precious memories.
Transcend's PF700 Digital Photo Frame works with most mainstream SD/SDHC/ MMC/MS memory cards as well as USB Flash Drives. Simply plugging in one of these storage devices will allow the photo frame to instantly locate and display all available JPEG images. Users can choose to view photos one at a time, in customizable slideshows, or in a convenient tiled thumbnail view. Additionally, the PF700 features Transcend's exclusive NaturaTone color modes, handy zoom and rotate functions, attractive photo borders and themes that guarantee photos look their best and create a lasting impression when on display.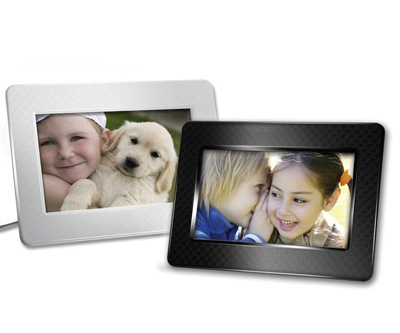 Aside from its pleasing display features, the PF700 can also function as a video player, an MP3 player, an attractive desktop clock, or an electronic calendar with important-date scheduling and reminders. For extra convenience, the PF700 has easy-to-use controls and comes with a compact remote that users can take advantage of to easily browse through photos, watch videos or change MP3 songs without having to get up to press buttons on the frame itself.
Transcend's 7-inch PF700 Digital Photo Frame boasts a gently contoured shape with an intricate interlocking pattern that makes it a tasteful addition to any contemporary living room, bedroom or office décor. Currently available in black and white versions, the PF700 is not only great for personal use, but also makes a perfect gift for friends or relatives.
Source: Transcend