Eye-Fi Inc., makers of the world's first wireless memory card for digital cameras, unveiled new wireless memory cards that deliver the next generation Eye-Fi experience of the award-winning Eye-Fi Pro X2. The "X2" family of Eye-Fi cards have faster-than-ever wireless photo and video uploads, improved performance, and virtually endless storage capacity with Endless Memory mode. The new product line-up is available today starting at $49.99.
Eye-Fi has also more than doubled its hotspot upload locations. Now, users of the Hotspot Access feature can upload photos and videos directly from their camera at more than 21,000 hotspots in the United States including 6,500 Starbucks coffeehouses, and Harborlink hotspots such as BP gas stations.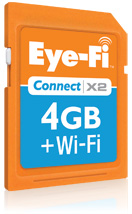 "Just in time for spring outings and summer road trips, we're giving users the ultimate Eye-Fi experience – it's faster and even more convenient," said Jef Holove, CEO for Eye-Fi. "Uploading and sharing your memories with friends and family is as simple as finding a nearby Starbucks and turning on your camera. We do the rest."
The Eye-Fi Connect X2 and Explore X2 join the Pro X2 as Eye-Fi's new family of products, each with Class 6 performance, an 802.11n radio for significantly faster uploads and Endless Memory mode. All Eye-Fi Cards will be available at retailers including Best Buy, Office Depot, Amazon.com, Adorama, B&H and J&R.
Eye-Fi Connect X2 – At 4GB capacity, the Eye-Fi Connect X2 will automatically upload JPEG photos and videos to the computer and one of more than 25 online sharing sites, such as Flickr, Facebook, YouTube or Picasa, through a Wi-Fi network. MSRP: $49.99.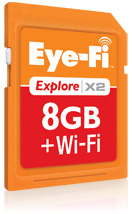 Eye-Fi Explore X2 – At 8GB of capacity, the Eye-Fi Explore X2 will automatically upload JPEG photos and videos to the computer and one of more than 25 online sharing sites. It offers lifetime automatic geotagging so photos and videos arrive at the user's computer with location information already included to identify where the image was captured. Explore X2 also offers one year of hotspot access for uploading away from home at more 21,000 hotspot locations across the Unites States and through open hotspots. MSRP: $99.99.
Eye-Fi Pro X2 – Unveiled at CES and winner of CNET's "Best of CES" award, the 8GB Eye-Fi Pro X2 will automatically upload JPEG and RAW photos and videos to the home computer, and will send them to one of more than 25 online sharing sites. It also allows users to create an ad hoc connection directly to their computer to wirelessly upload photos and videos while away from a wireless router. Like Explore X2, Pro X2 offers lifetime geotagging and one-year of hotspot access to enable uploads away from home at more than 21,000 hotspots and open hotspots. MSRP: $149.99.
Double the Hotspots Makes Uploading Even More Convenient
Beginning March 31, any existing or new Eye-Fi user with an active hotspot service plan can upload at more than 21,000 hotspots across the Unites States, including Starbucks and BP gas stations. Users simply walk into a supported hotspot, turn on their camera, and photos and videos will automatically upload to their computer or favorite sharing Web site. Users don't even need to have their computers with them. Users can also upload through any open hotspot with no user agreement page. For a complete map of supported hotspots, please visit http://www.eye.fi/how-it-works/features/hotspot-access
Eye-Fi's new cards include the "Endless Memory" feature, which lets users choose to have Eye-Fi automatically make space available on their memory card after photos and videos are safely uploaded to the computer or Web. When the card reaches the user's pre-determined amount of space used, it will remove files that have been safely uploaded, beginning with the oldest – even when the card is not connected to a network. If files have not yet been uploaded, Eye-Fi will not remove them. This option can be set up in Eye-Fi Center.
Eye-Fi Center – Easier Storing and Sharing on Multiple Sites
All Eye-Fi users can download the new Eye-Fi Center desktop application that makes organizing and sharing photos and videos easier. Eye-Fi Center has a redesigned interface that offers new features and is easy to use. Users can drag and drop photos and videos to publish them easily to multiple online locations – even including photos and videos that weren't taken with an Eye-Fi card. Users can download the software at http://support.eye.fi/downloads.
Eye-Fi has received numerous product awards including Mac Observer's Editor's Choice 2010 Award and Popular Photography's 2009 Photography's Outstanding Products (POP), and was named a CES 2010 Innovations Honoree. For more information, please visit www.eye.fi or follow us on Twitter @EyeFiCard.
Source: Eye-Fi