Today A-DATA Technology announced, that enters into the power supply unit market and reveals its Horus Seriespower supply unit is designed for gaming enthusiast, PC enthusiast, and overclocker.
The ADATA Horus Series power supply unit include 550W, 650W, 750W, 850W, and 1200W models, featuring Eye of Horus – Intelligent LED fan (dual ball-bearing) with 3 colors to display output power, 80 Plus Bronze certified, NVIDIA SLI -ready certified, modularized cable management and 100% Japanese capacitors.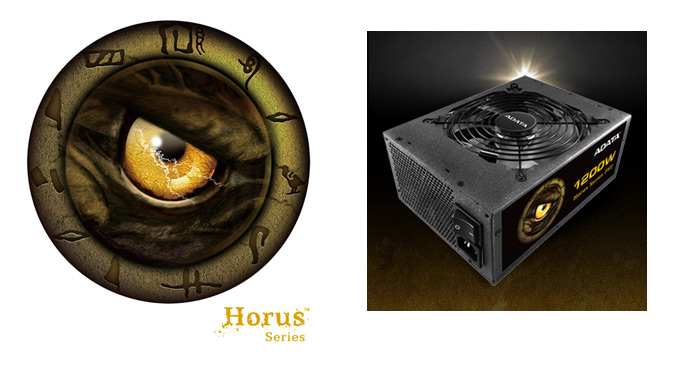 "Entering into power supply unit market continues our strategic expansion and diversifies product portfolio that reveal significant opportunity to increase revenue." said Andy Kuo, Director of Product Management, Division 2. With tremendous experience in product development, ADATA will continue the same focus on quality, stability, and performance that has earned us strong leading position in every market we serve.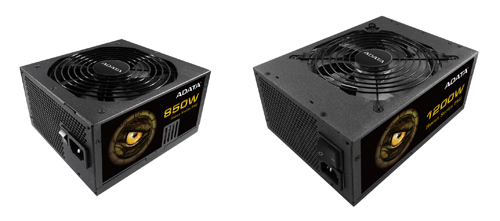 Features and specifications of Horus Series 1200W PSU
Eye of Horus™ – Intelligent LED fan (Dual ball-bearing fan) with 3 color to display output power (0%~50% Green light,50%~100% Blue light, Over 100% Red light)
80 Plus Bronze – Ensure 82% power efficiency
NVIDIA® SLI®-ready certified
Modularized cable management – Reduce unused cable clutter and improve internal airflow
True continuous power – Perform sustained power output
Support ATX 12V v2.2, v2.3,v2.92 standard
Support up to 4 VGA card
PCI-E 8pin x 6, PCI-E 6pin x 4
Dual rail +12V
MTBF – 100K hrs (minimum)
100% Japanese capacitors
Three-year limited warranty
Features and specifications of Horus Series 550W/650W/750W/850W PSU
Eye of Horus™ – Intelligent LED fan (Dual ball-bearing fan) with 3 colors to display output power (0%~50% Green light,50%~100% Blue light, Over 100% Red light)
80 Plus Bronze – Ensure 82% power efficiency
NVIDIA® SLI®-ready certified
Modularized cable management – Reduce unused cable clutter and improve internal airflow
True continuous power – Perform sustained power output
Support ATX 12V v2.2, v2.3,v2.92 standard
Single rail +12V
MTBF – 100K hrs (minimum)
100% Japanese capacitors
Three-year limited warranty