In the tradition of introducing stylish, technologically-advanced, but easy-to-use products, Casio America Inc. is proud to introduce the Privia PX-830 digital piano. Featuring a new, elegant, sophisticated cabinet design, new grand piano sounds and a new ""Ivory Touch"-weighted action keyboard, this new Privia sounds and feels as good as it looks.
The grand piano sound in the PX-830 delivers an unprecedented level of realism and expression. Four dynamic layers of stereo piano samples are integrated with Casio's proprietary Linear Morphing System, resulting in a grand piano sound with seamless transitions and a superior dynamic range. For added realism, the PX-830 simulates the sound of the open strings when the dampers are raised by the pedal using Acoustic Resonance DSP. Additionally, the PX-830 has 128-note polyphony – delivering more than enough horsepower for the most demanding musical passages. Also, musicians have the ability to layer sounds and use the damper pedal without the worry of dropped notes. Reinforced by a new dual 20W speaker system, the result is a grand piano experience which is unmatched at any price.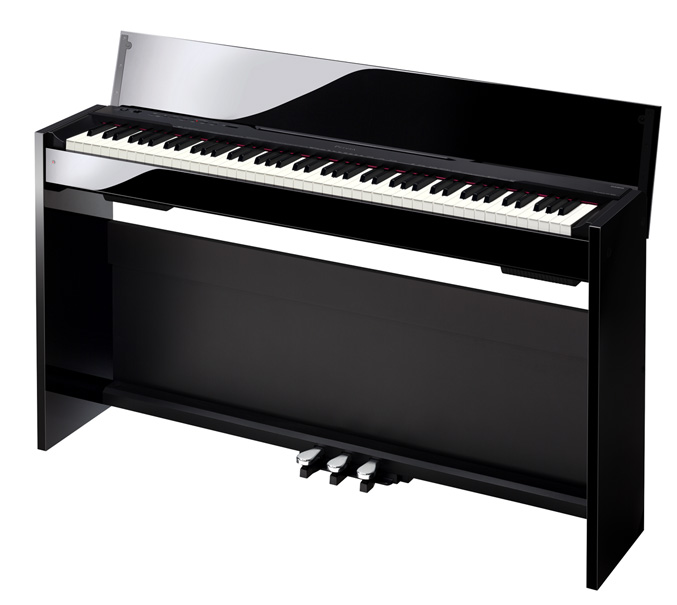 The Privia PX-830 features a new "Ivory Touch" Tri-Sensor, 88-note scaled hammer action keyboard. Casio's superior engineering has resulted in an authentic piano touch that captures every performance detail and nuance. The matte-finished keys and scaled hammer action provides the weight, feel and resistance of an acoustic grand piano.
"The PX-830 takes the Privia concept and raises the design and elegance to a new level," said Mike Martin, director of marketing, Electronic Musical Instruments Division. "The PX-830 not only embodies the sound and feel of a grand piano, but delivers a sleek and professional design in a rich new cabinet that will make a beautiful addition to one's home."
The PX-830 is equipped with 16 different tones and is capable of layering and splitting sounds. Duet Mode allows for a student and teacher to work in equal ranges of the keyboard simultaneously while the two-track recorder enables musicians to produce their recordings or use it as a practice tool. The PX-830 has a USB MIDI interface which allows users to easily use it with computer applications. The PX-830 is also equipped with two 1/8" headphone outputs allowing two users to listen and practice privately.
Available in either black matte or black polish, the PX-830's cabinet captures the enduring aesthetic beauty of an acoustic piano in a slim, elegant design that is the hallmark of the Privia line. The PX-830 will hit stores this April with an MSRP of $1799.99 (black polish) $1399 (black matte). For more information, visit www.casio.com.
Source: Casio