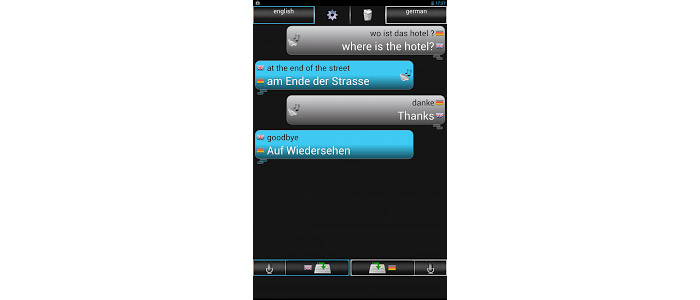 NyxCore's Conversation Translator is one of the latest interesting new applications for Android. It is currently among the most popular Android apps and as the name suggests the app offers an easy way to get yourself understood nearly anywhere around the world.
The application supports no less that 72 different languages, a list, which includes even exotic languages such as Cebuano or Gujarati. Despite the rich language list Conversation Translator is just 1.9 MB in size and will not overload your Android device. Just on the contrary – the program is easy on the hardware and simply works. Once started you will be presented with the program screen that allows you to choose two languages – the first one is the input language and the second one is the output (translated) language. The user types a sentence in the program and then it gets automatically translated. A nice feature is that you can instantly revert the languages – just type a new sentence in the output field and you will get it translated in the input field. You can even listen to the sentence and hear how it is pronounced in the foreign language!
The translation quality is very good but the program does not do well with languages that use an alphabet different from the Latin one such as Greek, Russian etc. Depending on your device you may not be able to type a sentence in the original non-Latin alphabet.
All in all Conversation Translator is a nice app that can do a great job depending on the circumstances. For a free application we can't really have any complaints. You can get the app right here: Conversation Translator.